One of the big parts of travel for me is reminiscing and thinking about past trips. It is interesting how certain trips settle in one's memory. Whenever I go on a trip with my dad we spend so much time talking about memories from past trips that we sometimes do not have time to focus on the journey at hand. If you travel a lot, you are not going to remember every detail of every trip. In fact, some entire trips will be forgotten all together unless you review the pictures. There are certain magical moments that will stay with you forever and will bring a smile to your face whenever the memory flashes in your mind.
The last week of the year often brings a flood of nostalgia for the last 365 days. It is the perfect time to look back at the awesome moments from the previous year both personal and travel. I was fortunate to have a very full year this year. I have delved further into two countries I have previously been to – Canada and Costa Rica, went on three memorable hikes in U.S. national parks, and participated in two cross-country ski marathons on top of the biggest snow bases I think I have ever had the pleasure to ski on.
Here are the best outdoor adventure travel moments of 2014:
Fakahatchee Strand sunset
Sunsets are a big part of enjoying the outdoors, so it is no surprise I include one to begin the best outdoor adventure travel year in review. I started the year in Florida – a place noted for sunsets. The best sunset I saw was not from a beach overlooking the ocean or from a picturesque key, but was from a swamp just north of the Big Cypress. I was exploring the Fakahatchee Strand Preserve when darkness overtook me. The park closes at sunset, so I had to leave. I looked west from the road and the sky just exploded in orange. Fakahatchee Strand #sunsetsunday
Canoeing with manatees in Crystal River
Seeing a manatee was definitely a bucket list item. I went from seeing zero wild manatees in my life to seeing over 200 in one day. When I arrived in north Florida the thermometer plummeted below 30 degrees. They actually closed the Three Sisters Springs along the Crystal River because they were packed with over 300 manatees searching for warmer water.
Two days later the temperature soared near 80 degrees and the springs reopened. With the warmer weather, the manatees begin leaving the springs in impressive numbers. As we paddled up into the springs there were hundreds of manatees swimming out to sea. I would be paddling an all of a sudden these little mini torpedoes would glide by right next to to the boat. When we entered the springs, there were still over 50 manatees left just hanging out. Canoeing with manatees on the Crystal River
Copious amounts of snow at the Birkie and the Great Bear Chase
Two days before the 2014 American Birkebeiner cross-country ski race, the heavens opened up and dumped 18 inches on Hayward, Wisconsin. I drove up two days earlier and from Eau Claire to Hayward I could only drive about 30-40 m.p.h. as the highway crews had not completely cleared the road. The median was littered with jack-knifed semis and cars that had slid off the road during the storm.
There is one section of the Birkie where there are huge pine trees on each side of the trail. They were weighted down with billowing snow, and it was just beautiful. I went back the next day and found this place because I had to see it again before I left. Madshus skis are mad good for the Birkie
If that was not enough snow, a couple weeks later I was skiing another cross-country ski race in the Upper Peninsula of Michigan. The Great Bear Chase takes place in the Keweenaw Peninsula area in Calumet, Michigan. They routinely get over 200 inches of annual snow and they were having a record breaking winter. Snow was up to the street signs and the drifts caused by the snow plows towered as high as houses. Five reasons to ski the Great Bear Chase
Hiking Big Bend National Park
This was definitely the hardest hike I have ever endured. There is no water along the 30 mile Outer Mountain Loop Trail, so I hauled almost two gallons of H20 over the rugged Chisos Mountains. Then I crossed the Chihuahuan Desert in 100 degree temperatures nearly running out of water before reaching my water cache. My plight was made a little more bearable due to the fact that Big Bend may be the most beautiful place I have ever hiked in. It is right up there with Zion and Grand Canyon in regards to scenic beauty. Completing the Outer Mountain Loop
Bald eagle take off
While canoeing the Black River in central Wisconsin, I honed in on a bald eagle perched on a tree. I took a couple of pictures, and I tried to get a little closer and get on more. Simultaneously as I clicked, the majestic bird took flight, and I was left with this memorable picture. Black River bald eagle photo essay
Bears, bears, and more bears oh my in the Great Smoky Mountains
I have hiked hundreds of miles in the Great Smoky Mountains National Park for over thirty years and never seen a bear while on the trail. This trip I saw four in a matter of two days. Three of them were cubs without their mother. The mother was surely around, but I did not see her. This was the highlight of a beautiful trip taken over the Fourth of July weekend. My first bear encounter in the Great Smoky Mountains
Jamming on the Wisconsin River with the Friends of the Chicago River
I have canoed the Wisconsin River countless of times with my Dad. This trip was with fellow canoe guides with the Friends of the Chicago River. We found an amazing sandbar that we unfortunately shared with a disgruntled camper. He accused us of bad etiquette for moving in on his sandbar the size of three football stadiums. He never accused us of bad guitar playing and singing though. Bad etiquette camping along the Wisconsin River
Canada camping trip
I have only been to Quetico and Toronto in Canada, so I looked forward to a camping, fishing, canoeing road trip with my dad in northern Ontario. We ended up camping six nights. Three of the nights were on the way back and forth to North Bay, and three nights were spent at Samuel De Champlain Provincial Park on the Amable Du Fond and Mattawan Rivers. We reminisced about many old trips and made some new memories in the beautiful wilds of northern Canada. Ontario canoeing, camping, fishing photo essay
Pictured Rocks National Lakeshore
I hiked 43 miles along the North Country Trail that follows the Lake Superior shoreline in Pictured Rocks National Lakeshore. Hard to pick one moment from this trip as there were so many overlooks of dunes, lighthouses, cliffs, and of course the gorgeous great lake. It also helped that the forest was on fire with fall colors. Pictured Rocks National Lakeshore photo essay
Costa Rica
I ended the outdoor adventure travel year with a week long trip to Costa Rica. I traveled with my long time friend Paul. While there were many great memories made, I think three really stand out.
Hiking Monteverde and Santa Elena during the rainy season
The rainy season technically ends in Costa Rica in November, but the rain continues on in the higher elevations of the country. While some may not want to experience a country in the rainy season, I found it to be fascinating. I have visited many tropical jungles and rainforests when it was hot, sunny, and humid but never when it was rainy. The vibrant green found in the Monteverde Cloud Forest and the Santa Elena Reserve were just incredible. On each tree there is the possibility that it will house seventy other species of flowering plants. It was amazing to see such exploding vegetation. Monteverde rainy season photo essay
Surfing Jaco Beach
Paul and I signed up for a surfing lesson at Jaco Beach. For two hours we learned how to get up and ride a wave and then put our new found knowledge to an immediate test. It was a difficult and exhausting experience, but it was so much fun and look forward to doing again. After the lesson we had a cocktail at the Tiki Bar and watched breathlessly as another gorgeous Costa Rican sunset unfolded in front of us.
Rain engorged waterfalls in La Paz
Our last day in Costa Rica was spent touring the La Paz waterfall gardens. The $38.00 entrance fee was a little bit hard to stomach, but the experience we had there was worth a $200.00 entrance fee. Speaking of rain, it was pouring the whole three hours we spent in this park. The first part of the park is like a mini zoo with a butterfly garden, bird aviary, and jungle cats exhibit. Those were all kind of interesting, but the waterfalls were the best part of the visit.
The river that runs through La Paz goes through a gorge and a series of five amazing waterfalls drop one after another through this pass. A trail with many stairs follows this section with spectacular spots to view the falls from many different angles. With the rain coming down in torrents, the waterfalls were engorged and raging. It was an intense experience despite being cold and soaked, but we did not care once we hit the waterfall trail as it was candy to the eye and something I know I will never forget. I hope you had a wonderful year, and I hope you made some great personal and travel memories. Feel free to share some of your favorite moments of 2014 in the comment section.
Adventure on!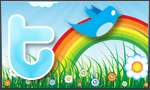 The goal of Traveling Ted is to inspire people to outdoor adventure travel and then provide tips on where and how to go. If you liked this post then enter your email in the box to get email notifications for each new entry. Daily travel photos are excluded from your email in order to not flood you with posts. There is no spam and email information will not be shared. Other e-follow options include Facebook (click on the like box to the right) or twitter (click on the pretty bird on the rainbow above). On the right sidebar is a donate button.
If you would like to donate in order to support the site, it would be appreciated. All donations would cover travel expenses and improvements to make the site better.