I have hiked in the Great Smoky Mountains for over 30 years. During this time I have probably averaged an overnight hike once every two or three years. In all of those backcountry hikes, I have never experienced a bear encounter. I have seen a few along the road, but never while hiking a trail. That all changed with my last hike over the 4th of July weekend.
Great Smoky Mountain arrival
I drove down and arrived in Sevierville at 3 a.m. I slept in a Kmart parking lot and headed into the park early. My itinerary included backcountry reservations for two nights: one on the Appalachian Trail (AT) and another at a tent site.
I only planned about a 10 mile hike the first day, so I was in no hurry to get started. After I finished up arranging my backpack in the Cades Cove picnic area, I drove around the 11 mile Cades Cove scenic loop. The loop was quite crowded being the 4th of July.
Cades Cove
When the line of cars approached the woods, a traffic jam ensued. This usually means someone up front spotted wildlife. I stuck my head out of the window and saw a pretty decent sized black bear in the woods. Before I could get the camera out, he retreated out of camera range. Two more bears were spotted in the trees during the rest of the drive.
After I parked my car, the hike began. I kind of thought in the back of my mind that if there were 3 bears in Cades Cove; I might see more during my hike. They seemed rather active.
The backpacking adventure begins
I eventually climbed up from the Cades Cove campground to the Appalachian Trail at Spence Field. The Spence Field shelter was closed due to an aggressive bear. I was staying 3 miles down the trail at Russell Field.
As soon as I got started towards Russell Field I stopped along the trail to take a shot of the iconic white blaze on the trees that marks the AT. As I was looking at my photo, I heard a small ruckus ahead and looked up in time to see a cub roll across the trail from Tennessee into North Carolina (the AT is the border for the two states).
You never forget your first bear encounter – Especially when a cub without a mother
Usually seeing an animal is cause for excitement, but seeing a cub without a mother was a little worrisome. Where was the mother? Was the mother behind me, to the left, or to the right? If it was behind me then I was in a bad spot. What if it was ahead of me and if I walked forward I would inadvertently be walking head on into a concerned mother coming the other way.
I hesitantly walked forward and thought I heard a noise to the right. I doubled back in fear to where I started. This situation was a pickle because I could not turn around as Spence Field was closed. I commenced going forward and I heard nothing else this time, so I continued on my hike. I was a little nervous the rest of the segment to Russell Field.
Normally, I am not fearful of black bears. I have camped in black bear country many times in the Smoky Mountains, northern Wisconsin, Quetico Provincial Park, the Porcupine Mountains in Michigan, Big Bend, and even Florida. However; seeing a cub without a mother is a different ballgame. Getting between a cub and a mother is a hiker's nightmare.
Safety in numbers at Russell Field
When I got to Russell Field, there were about 8 other hikers already there. I told them I was glad to see them as I had seen a bear. A few of the other hikers had also seen a mother and cub coming from the other direction. This was the direction I was heading the next day.
Now that I was safe among other humans, I enjoyed my first bear encounter in the Smoky Mountain wilderness while hiking. It would not be my last on this trip. In fact, it would not be the last time I spotted a cub on its own.
Adventure on!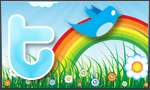 The goal of Traveling Ted is to inspire people to outdoor adventure travel and then provide tips on where and how to go. If you liked this post then sign up for the email newsletter. Notifications are sent out once or twice a month with what is new with Traveling Ted's adventures. There is no spam and email information will not be shared. Other e-follow options include Facebook (click on the like box to the right) or twitter (click on the pretty bird on the rainbow above).