Is the summer of 2021 outdoor adventure cancel culture a warning about our environment or is it already too late? When I mention cancel culture, I am not talking about the phenomenon of rejecting a person from social circles due to the "me too" movement or some similar egregious deed. I am talking about this summer when Mother Nature single handedly drenched, dried, and put to fire many outdoor adventure plans.
Nationally big events causing cancel culture
Hurricane Ida drenched a huge swath of the United States and left devastation in its wake. This storm single handedly canceled a huge celebration for thousands of Americans. Tropical Storm Ida swamped the Bonnaroo Music Festival days before kickoff causing its cancelation. Bonnaroo draws 75,000-90,000 fans to the fields of central Tennessee to watch one of the best festival lineups in America.
Related: How to survive Bonnaroo Music Festival
Another dry hot summer in the west left huge tracts of wilderness on fire. Fires ravaged popular vacation spots like Lake Tahoe and the surrounding wilderness. I do not hike in California much, but I did see friends bemoan on Facebook when western wildfires burned some of their favorite hiking spots.
These are just two examples of dangerous natural events linked to climate change that wreaked havoc and impacted millions of Americans. Summer is the time to get outdoors and enjoy nature, but this is increasingly difficult when areas are impacted by flood, drought, and wildfires. I have experienced more cancelations this year due to weather than last year due to Covid-19. Is this the new normal?
Cancel culture is not just national, but also local
Many people think these catastrophic events are just happening elsewhere. If you live in the Midwest you might think these events are only happening out west and in the hurricane belt. Unfortunately, these events took place all over the country. Even Wisconsin, the farm belt of the nation, felt the wrath of extreme weather causing all sorts of outdoor cancelations this summer.
The Wisconsin cancel culture washes out August
August is a big month for outdoor adventure as everyone is trying to get one last camping trip in before school starts and as the weather begins to cool. As a teacher, I was one of those outdoor adventurers trying to make the most of the last month of summer.
Black River and the Driftless Region hit with seven inches of rain
In early August I drove up to Wisconsin to canoe the Black River in Wisconsin. I called the outfitter the morning I was driving up and asked if they had rentals for the next day. I was told that the region was hit with seven inches of rain. This blew my mind as the Chicago area had not received much rain in weeks. I also monitored the Wisconsin River and the gauge was normal, so I had no idea this storm took place.
Related: Black River canoeing adventure
I called the Kickapoo River outfitters and they were in the same predicament. Instead of canoeing, I camped at a state park and went hiking. I chose Perrot State Park. They have a river and bay that enters the Mississippi River, and they rent canoes. I inquired if the canoe rentals were open. They were closed due to high water.
Wisconsin River washed out due to the same rain storm
The next weekend, I was planning on paddling the Wisconsin River with fellow guides from the Friends of the Chicago River. The same storm that washed out my Black River trip was now filtering its way into and swelling the Wisconsin River to near flood proportions. The outfitter canceled the trip, so we had to resort to plan B and paddle the Sugar River in Illinois.
Related: Wisconsin River bad etiquette camping
Labor Day struggles to find an adventure
Over Labor Day, I signed up for a canoe trip on the Flambeau River with Bull Moose Patrol. The trip on the Flambeau was canceled due to drought conditions. Our plan B was the Black River, but yet again the river was too high to canoe camp on. How two river systems only hundreds of miles apart could be experiencing flooding and drought in the same weekend is perplexing.
Another option was the Sawbill Lakes just south of the Boundary Waters in Minnesota. Although this is not in Wisconsin, many paddlers from Wisconsin and all over the Midwest and country converge on the Boundary Waters Canoe Area Wilderness and Superior National Forest to enjoy the pristine beauty of these waters.
Wildfires raged in the Boundary Waters this summer closing many of the canoe routes and closing the Sawbill Lakes Area. We finally chose Plan D and paddled the Bois Brule River. The water was a little low, but manageable.
Tropical Storm Elsa in Florida
Even before August, I experienced extreme weather on a trip to Florida in early July. I looked forward to two weeks in the hot Florida sun canoeing beautiful rivers and springs. Instead, for two days, I had to hunker in a hotel room in Crystal River and watch as Tropical Storm Elsa flooded the surrounding neighborhoods, swelled rivers, and deluged hiking trails.
Red tide in Tampa ruining first ever deep sea fishing adventure
A few days after Elsa roared through, I ended up in Tampa for my first ever deep sea fishing adventure. My friend Tim has a boat, and generously offered to take me out. It was a gorgeous time out on the water, and I was thrilled to see so many birds, but thanks to an awful red tide, we did not catch one fish.
The exact cause of red tide is unknown, but many link it to water pollution and environmental factors. It may have nothing to do with climate change, but I am including it here since it is a similar problem. It is a natural issue that is most likely heightened by our interference in nature.
Never experienced a cancel culture summer like this 
I have been paddling Wisconsin rivers and outdoor areas in the Midwest for four decades, and I can never remember a summer like this. Sure, I have had trips canceled from isolated incidents like flooding and fires before. One summer, I had to flee the Sag Lake Fire that broke out a mile north of our family cabin.
Related: Escaping the Sag Lake Fire
The Wisconsin River is increasingly experiencing high water at an unprecedented rate. In 30 years paddling this river, there were a handful of times the river was too high for sandbar canoe camping. The last five years though it has been a juggling act to find decent water levels. I have spent more time checking the USGS water level page monitoring the Muscoda water gauge than I have spent actually paddling the river.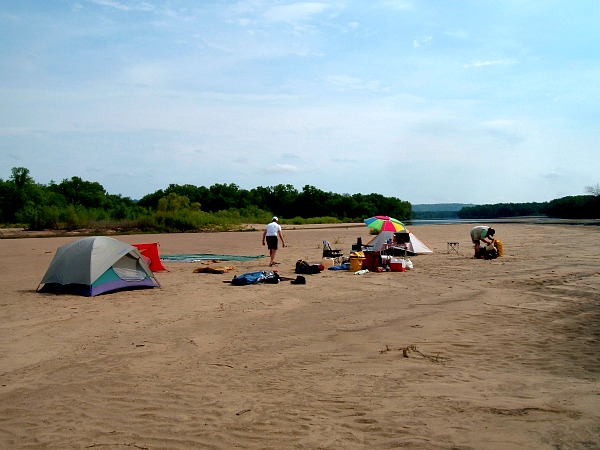 Is this a warning is it already too late?
No one knows this answer as only time will tell. I am pessimistic because even if it is a warning and we do have time to lessen our impact, we won't do it. We have turned too greedy and whenever money is involved, the environment becomes secondary. We will only change our ways when it is too late.
What does this mean for the future?
From now on we will need to be flexible when planning trips. The trip you have scheduled every August for decades might get canceled next year due to flooding, fires, or drought, so be flexible. If you are booking a trip with an outfitter or a resort, I would examine closely their cancelation policy. You might want to look a little closer at trip insurance if the booking is expensive.
I would like to end this on a hopeful note, but I am resigned to the worst case scenario. I am doing my best to lessen my carbon footprint, and I hope this post is read by a few that might decide to do the same. The only light I see is that perhaps this summer of cancel culture is just a fluke. I would prefer to listen to scientists and climatologist and face the inconvenient truth that we need to make major changes.
If you doubt scientists, perhaps reading these observations from someone who has observed the weather patterns closely for decades might sway you that something is askew. Think of the song by Spirit from the 1960s. It is "nature's way of telling you, something's wrong."
Have you been a victim of the 2021 cancel culture? Let me know in the comment section if you have had any trip cancelations this summer.
Adventure on unless canceled!