Looking for wildlife in Monteverde
For two days we had hiked in the Monteverde and Santa Elena Rainforests in Costa Rica and pretty much had come up empty on the wildlife front. Fortunately, there was plenty to look at as these rainforests featured some of the most lush vegetation I have ever seen. I did want to see some wildlife however, and I had heard that a Monteverde night walk was a good means to this end.
We were staying at the La Colina Lodge, which was only a kilometer from Monterde. There were several night tours in the area, so we asked Mauricio at the front desk if he had a suggestion. The Children's Eternal Rainforest was only a fifteen minute walk from the lodge, so we went ahead and booked. Mauricio kindly called to confirm our presence. We were actually running a bit late. The tour started at 5:30 p.m., but they said they would wait a few minutes for us.
Monteverde night walk at the Children's Eternal Rainforest
We hustled over there nearly running over a coati in the process. We had already spotted wildlife, and the tour had not even begun yet. We came around the corner and met the guides and paid our admittance. I believe the cost was $24.00. We then joined the group and the tour that was already in progress. They were introducing the rainforest as we approached.
The Children's Eternal Rainforest or El Bosque Eterno de los Niños is the largest private reserve in Costa Rica protecting over 54,000 acres. This is the size of a small U.S. National Park – Mesa Verde is 52,000; whereas the Great Smoky Mountains cover 500,000 acres, but this is nothing to sneeze at.
The Children's Rainforest began when children in Sweden began to save money in hopes of saving the Monteverde rainforests. The idea spread to more than 40 other countries. The Monteverde Conservation league formed to handle the donations and to protect the rainforests. Only a tiny sliver of this 54,000 acres is open to the public as the rest is for the animals and the jungle.
We had the good fortune to hike part of this land and learn about it at time which one usually does not adventure outdoors. Actually, the majority of the reserve lies farther east. The Bajo del Tigre section is just a small portion of the rainforest and is cut off from the larger section. Despite this section being small, it is in close proximity to Monteverde and Santa Elena, so there is a large rainforest section that is connected to where we were hiking.
There are 3.3 kilometers of trails in Bajo Tigre. You can walk these trails on your own during the day or with a guide or with a guide at night. There is a great spot to watch the sunset over the Nicoya Gulf as well, but we missed this although we did see the beautiful spectacle from the road on a previous night.
I brought my own headlamp, but if you did not have one, a flashlight was provided. After the introduction it was time for welcome to the jungle and we embarked into the dark night. December is known as the windy season and even though it was dark, the wind howled through the trees.
BINGO
Our guide, whose name was also Mauricio yelled "BINGO." He pointed his flashlight to a shrub and introduced us to a tiny tree frog. We saw several during the hike. "BINGO" yelled our guide and this time it was a sleeping wren. A few minutes later he again exclaimed his favorite word and this time it was a green toucan rolled up into a ball in the trees. He was amazing at spotting animals in the dark.
I don't think I have ever seen sleeping birds before at night. Of course, I have never sought them out before at night except for a few times I have flashed a light in the trees looking for a hooting owl. We saw several more birds including a mot mot and more wrens.
The highlight of the trip was seeing two fruit bats. The first one flew away with a piece of guava in his mouth and you could see the fruit actually dripping as he flew away. Our guide elatedly yelled "Bingo," it is a fruit bat. There was more too. Another fruit bat was upside down in the tree, and he also had a juicy piece of fruit in his teeth. I have made it known that I love the delicious fruit of tropical countries, so I felt at one with these flying mammals.
I was really hoping to see a snake or a tarantula. I think the cold weather was probably too much for any snake, and we did not have the pleasure of seeing any large hairy spiders. We did see a few small ones scurrying about on the trail.
At one point our guide implored us all to turn off our lights and then create a train. We did as he asked and then grabbed the back of the person in front of us. It was pitch black, and I literally could not see my hands in front of me as we slowly marched forward. Eventually though, our eyes adjusted and we could begin to make out the terrain and walk a little easier. I definitely would not want to be stuck in the jungle without a flashlight.
The tour was definitely worth it. I would love to come again to Monteverde and check out the other night walks in order to compare. Have you ever been on a Monteverde night walk? What interesting animals did you see?
Adventure on!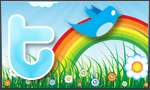 The goal of Traveling Ted is to inspire people to outdoor adventure travel and then provide tips on where and how to go. If you liked this post then enter your email in the box to get email notifications for each new entry. Daily travel photos are excluded from your email in order to not flood you with posts. There is no spam and email information will not be shared. Other e-follow options include Facebook (click on the like box to the right) or twitter (click on the pretty bird on the rainbow above). On the right sidebar is a donate button.
If you would like to donate in order to support the site, it would be appreciated. All donations would cover travel expenses and improvements to make the site better.