Maracas Beach is the most popular beach in Trinidad. Trinidad & Tobago is a republic consisting of two islands in the south Caribbean just north of Venezuela. Trinidad is the larger of the two and more industrialized while Tobago is a typical laid back small Caribbean Island with pristine beaches.
Although, Trinidad is also an island, it is not as noted for having the same quality beaches as other Caribbean Islands. Trinidad is more industrialized for one, has a lot of rocky shores, and considerable portion of the shoreline is also very marshy. This does not mean there are no nice beaches in Trinidad. Macqueripe Beach in Chaguaramas National Park is a nice one and so is Maracas Beach.
Maracas Beach is probably the most popular beach in Trinidad. For starters, it is only a 45 minute drive from the capital city of Port of Spain. Secondly, it is beautiful. The beach, the surrounding bays, and the inland rugged jungle are spectacular. Looking out from the beach toward the jungle you keep expecting King Kong to come crashing out from the trees as it appears like a scene from a movie. High hills covered with deep green vegetation rise right from the beach into wispy thunder clouds rolling through until sunshine prevails.
The views start before you even arrive to Maracas. From Port of Spain you drive through twisty narrow roads going straight up into the hills. As you near the beach, before the road descends back down the mountains, there is an awesome view of Maracas Bay and the coastline. This overlook is a popular place to listen to soca, grab a delicious treat from a street vendor, and even listen to some guitar.
The beach itself is pretty fantastic as well and reminded me of Playa Manuel Antonio in Costa Rica. It is protected in a bay and golden sand extends in an arc on both sides with coconut trees growing inland. It is your typical tropical paradise.
Another famous aspect of Maracas Beach is Richard's Bake and Shark. Bake and shark is a fried fish sandwich and Richard's is legendary in Trinidad. The line for a bake and shark at Richard's was around the corner, so we chose a different vendor. There was a table set aside just for fixings which included tomatoes, lettuce, chili sauce, ranch dressing, and many more condiment options.
My sandwich was absolutely delicious. The shark was flaky white and the lettuce and tomatoes helped make it one of the best sandwiches ever, and I did not even try the legend. I now regret not getting Richard's as I was admonished on twitter for missing out. I will have to make it back and get the one and only famous sandwich.
After a few carib beers to wash down the delicious sandwich it was back to the water. The next item on the adventure travel menu was boogie boarding. For the next 45 minutes I tried to time the wave just as it crashed down and ride it back to shore.
In boogie boarding you walk out to the big waves and try to find a good one just as it is dipping down and then jump under it and ride the wave back to shore. If you try to ride too early you might get throttled by the wave and if you attempt it too late you will miss it. It takes a special touch to hop on at the right moment. After 45 minutes of this, I think I had two good rides, but I had a blast concentrating on finding the right wave. I really want to try real surfing one of these days.
The best way to come to Maracas would be by either renting a car or renting a driver. Maxi Taxis and buses also come to Maracas.
Stay tuned,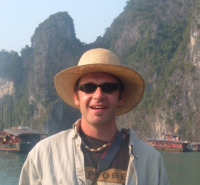 TT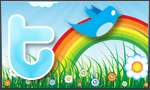 The goal of Traveling Ted TV is to inspire people to outdoor adventure travel and then provide tips on where and how to go. If you liked this post then enter your email in the box to get email notifications for each new entry. Daily travel photos are excluded from your email in order to not flood you with posts. There is no spam and email information will not be shared. Other e-follow options include Facebook (click on the like box to the right) or twitter (click on the pretty bird on the rainbow above).
[subscribe2]