Some may think I am brave for hiking through jungle and rainforest areas in Corcovado National Park and today in Manuel Antonio National Park in Costa Rica. Tarantulas and other giant spiders run amok not to mention some dangerous snakes.  Truth is I am as frightened of big spiders as anyone.
If you gave me a basketball, placed me under a basket, then threw a big hairy spider on my shoulder, I would jump ten feet high.  I would do some serious Michael Jordan or Spudd Webb action.
I am at the same kind fascinated by spiders big and small. I have a certain macabre interest in seeing them, just as long as they are not crawling on me. Or perhaps I just want to be like Mike or Spudd.
I think today my arachnophobia turned a corner. While hiking in Manuel Antonio National Park, our guide spotted this gorgeous tarantula on a leaf. How he spotted this in the jungle, I will never know. We saw so many cool things today including howler monkeys, sloths, Jesus Christ Lizards, rainbow grasshoppers.
For me, the highlight was this amazing tarantula. I have seen them in pet stores and in a cage, but I have never seen them in the wild. I was not frightened by this guy at all (although I am sure I would have freaked if he was crawling on me).
St. Pauli girl beer used to have a real catchy advertisement that sang "you never forget your first girl." Well, I will never forget my first wild tarantula.
TT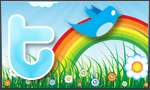 The goal of Traveling Ted is to inspire people to outdoor adventure travel and then provide tips on where and how to go. If you liked this post then enter your email in the box to get email notifications for each new entry. Daily travel photos are excluded from your email in order to not flood you with posts. There is no spam and email information will not be shared. Other e-follow options include Facebook (click on the like box to the right) or twitter (click on the pretty bird on the rainbow above).
On the right sidebar is a donate button. If you would like to donate in order to support the site, it would be appreciated. All donations would cover travel expenses and improvements to make the site better.