Costa Rica is so beautiful even the grasshoppers are cool. Except for the fact that they are the Carl Lewis of the insect world, grasshoppers are not a group of species that garners much excitement. Even crickets are more interesting. They at least create a soothing night time chirp.
In Manuel Antonio National Park in Costa Rica, our guide spotted this tiny grasshopper on a leaf just off the trail. He called it a rainbow grasshopper. Because of sightings like this, it is recommended to hike with a guide in Costa Rica. They will spot so much wildlife you would just walk right past.
In America, our grasshoppers are pretty dull looking. They are either brown or green. I have never excitedly yelled while hiking in Wisconsin or Illinois: "OOOOHHHHHH, look at that grasshopper."
Not that I am anti-grasshopper. The fact they can jump a thousand times farther than their size is kind of intriguing, but other than that they are just not very sexy.
The wildlife in Costa Rica is truly amazing. Beautiful colored birds like the scarlet macaws and toucans call from the trees, impressive lizards crawl about the jungle floor, and earlier on this hike we had spotted a stunning tarantula on a leaf. The animal life is so gorgeous, even the grasshoppers are impressive.
It was the first time in my life I have uttered "what a beautiful grasshopper," and I am fairly certain the only time my camera has ever sought out this jumping insect.
Stay tuned,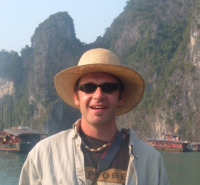 TT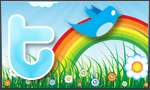 The goal of Traveling Ted is to inspire people to outdoor adventure travel and then provide tips on where and how to go. If you liked this post then enter your email in the box to get email notifications for each new entry. Daily travel photos are excluded from your email in order to not flood you with posts. There is no spam and email information will not be shared. Other e-follow options include Facebook (click on the like box to the right) or twitter (click on the pretty bird on the rainbow above).