Sometimes it is not possible and exhausting to get in the car, load up the canoes, camping gear, and go on a distant adventure to a distant state. Sometimes you want to go local. This is why for Chicagoans, the Nippersink Creek is the perfect local adventure.
Revisiting Nippersink Creek
Nippersink Creek was one of the first streams I paddled with my parents back when we were members of the Prairie State Canoeists. It has been many years since those days. It was time to reacquaint myself with this picturesque stream in McHenry County in northern Illinois.
Related: Five Chicagoland cross-country ski parks
We paddled the stretch from Keystone Landing to Pioneer Road Landing on a stunning summer day. This stretch is of the McHenry County Conservation District Nippersink Canoe Trail is free from private property concerns.
Nippersink Creek water levels
Just like the weather, the water levels and water conditions were perfect. It had been quite some time since any heavy rains, but the water level was not too low either.
The discharge at Spring Grove on this date measured 250 cubic feet per second. You can check water levels here. If the gauge is over 650 feet all launches will be closed.
I paddled with old friends Louis and Ruth Igyarto. Paddling friends from the 1980s who I enjoyed the river with back when I first visited this region.
When we arrived to Keystone Road, the parking lot was almost full. Outdoor places are busy since the lockdown with people making use of the gorgeous weather and making up for lost time.
Canoe poling Nippersink Creek
I decided to go with a canoe pole for the experience. I did not paddle once. The bottom of the creek changed often from gravel, to sand, to mud. This meant it was not the optimal river bottom for canoe poling, so it was necessary to really pay attention with each stroke so not to have the pole get stuck in the mud.
I was surprised at the depth in certain places. I remembered the Nippersink Creek as a narrow shallow stream, but there were several places where the bottom fell out, and I had to use the pole like a kayak paddle.
Nippersink Creek rifles
The Nippersink Creek Canoe Trail meanders through rolling prairies with distant delta kames and occasional oak savannah. There is an occasional rapids to navigate, but they are less than class I and all canoe and kayak skill level. All the rapids have well identified channels to navigate through.

There were a few rapids that had deep eddies, which would be perfect fishing spots. I will definitely bring my fishing pole next time and cast from the pool along the fast water line as that is a place fish usually love to hang out in.
Nippersink Creek wildlife
We did not see much bird or wildlife on this trip. This was most likely due to the number of other paddlers on the river, but we did manage to see a few herons and a couple of muskrats. Other wildlife found along the river include white-tailed deer, bald eagles, sandhill cranes, owls, and beaver.
Camelback Glacial Kame
The scenery highlight was paddling under Camelback Kame. A kame is a large hill made from gravel deposited from glaciers. I remember hiking the Glacial Park trails and skiing them and being on top of Glacial Kame and looking down on the river.
Related: Hiking the torturous terrain of Baxter State Park
It is interesting to view geologic highlights from another geologic point and then do the reverse. This reminded me of the time I hiked in Baxter State Park and climbed up to the Mount Katahdin ridge and looked down on the Allagash River Waterway. A few days later, I paddled the Allagash River and looked up at the Mount Katahdin ridge.
End of a perfect day
We soon got to the end of the trip after paddling about three hours. We ordered Mexican at El Puerto and hoped for a Fox Lake sunset. The desired sunset did not take place, but the perfect day did.
It would have been nice to pitch a tent and have a campfire underneath the stars, but I can save those experiences for another day. On this day, it was nice to comfortably eat a great meal in a house and drive home and sleep in my own bed.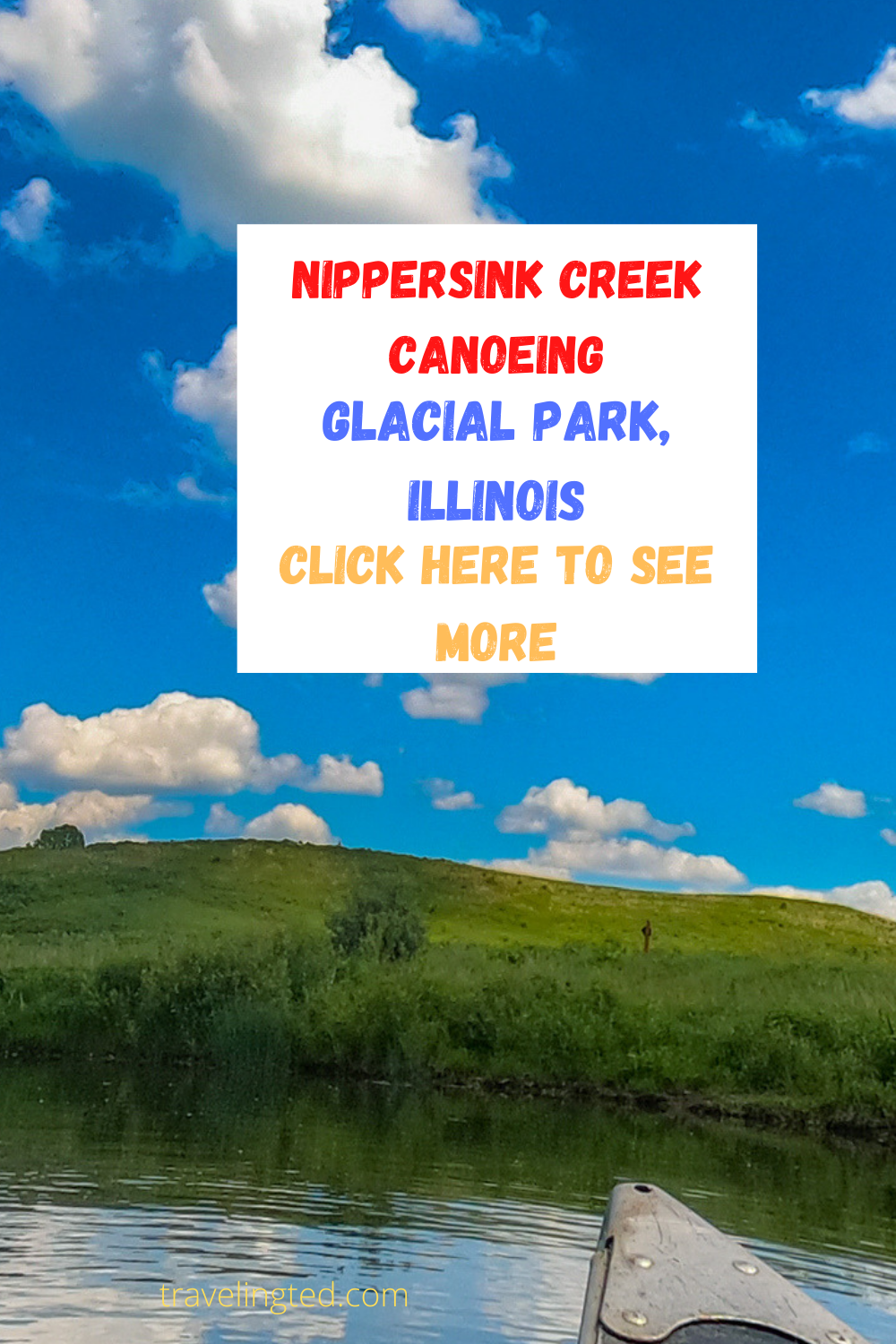 Other sections of Nippersink Creek
Besides this section just south of Richmond, it is possible to paddle on through Solon Mills, Spring Grove, and to the Nippersink Canoe Base in Fox Lake. I will return to paddle those soon along with the Fox River.
For more Nippersink Creek paddling information including canoe and kayak rentals, check out Glacial Park's website.
Adventure on!