While researching Acadia National Park, I was disappointed to find out that backcountry camping is not permitted. Overnight backpacking is my preferred method for lodging and exploring a park. Fortunately, I received intelligence that backpacking Maine coast was possible.
One night free in Maine before heading to Bar Harbor
I had one night to explore anywhere in Maine after the end of my Allagash River canoe trip. I drove over twenty hours to get to Maine and it had been non-stop adventure since I arrived. Upon arrival, three nights were spent in Baxter State Park and six nights canoeing the Allagash.
Related – Baxter State Park is more than Katahdin
Weighing my outdoor adventure options
I needed to recuperate, so I spent two nights relaxing in Bangor. In two days I had reservations for Bar Harbor, so I had one night unscheduled. I could backpack the Appalachian Trail for one night and delve into the One Hundred Mile Wilderness, check out Nahmakanta Lake and the Nahmakanta Public Lands, I could explore by car, or I could hang out another night in Bangor. Grafton Notch State Park was too far away as was Deboullie Public Lands and Bigelow Preserve.
Another option came to my attention thanks to Chip and Lani from Allagash Canoe Trips. They recommended hiking Maine's Bold Coast near Cutler, Maine. They informed me I could hike the coast and there were several backcountry campsites overlooking the ocean. This turned out to be an invaluable tip.
Related: Running Chase Rapids on the Allagash River
Off to a late start
It took a couple of hours to drive from Bangor to Cutler, Maine. I stopped along the way to take many pictures in the scenic small towns along the way. Once I got to Cutler, there were no stores at all.
I had to backtrack about 25 miles to find a store in order to get water. If you come to the Bold Coast, be prepared with everything you need to start your hike. There are no facilities of any kind nearby. At least none that I could find.
Backpacking Maine Coast
Just north of Cutler is the parking lot and trailhead for the backcountry hiking trails. There are no fees to hike or camp in this beautiful little rectangular parcel of land. The Bold Coast is also called Cutler Coast Public Reserved Land.
The only red tape to enter the wilderness is a sign in at the trailhead. I packed my backpack in the parking lot and finally got started at about 3 p.m. What can I say, I am a mover and a shaker.
Backpacking Maine Coast trail network
There is a short trail that leads to a trail along the coast, which connects to ten miles of hiking trails, so no need for a mountain guide. The trail to the coast is less than a mile.
The network of trails is actually a loop with a trail that is parallel to the coastal trail, but this trail was currently closed due to beaver damage. I guess their dams must have flooded the trail.
Backpacking Maine Coast – Coastal Trail
The Coastal Trail was incredibly beautiful. One hundred foot cliffs dropped straight down to the ocean with rocky beaches below. At a few points, the trail descended to these beaches.
It was difficult to make time with so many opportunities to take pictures. The campsites are clustered at the southern end of the reserve. They are about four to five miles away. The campsites are non-reservable and first come first serve.
I did not see a soul on the trail until I got to the first campsite. It was occupied. The sun had already set, and darkness was coming. Fortunately, the next campsite was vacant, so I set up camp quickly before it got too dark.
Perfect campsite backpacking Maine Coast
My tent site was located on a high point right above a cove. There were steps down to the rocky beach. Once the tent was up, I walked down to the water's edge. I was facing due east, so I did not get a view of the sunset, but the pink reflected down on the water below.
A group of heads swimming in the water greeted me. I was thinking they must be otters or perhaps those pesky beavers who were guilty of closing the other trail. I am used to camping in the inland Midwest, so that was my frame of mind when I saw these bobbing heads.
Visited by playful harbor seals
Suddenly, it dawned on me that that I was camped along the ocean. These were not mink, otters, or beaver. I was welcomed by a group of playful harbor seals. I have never seen a seal before, so I was ecstatic.
There are no campfires nor was there a fire ring, so that was a disappointment, but I can understand. I did not mind because I set my chair facing the ocean and watched the reflection from the moonlight dance across the water. A fishing boat cruised across the the cove, so there was plenty to observe while sipping my whiskey flask.
Bold Coast features incredible sunrise, but . . . .
I woke the next morning about an hour after sunrise. I should have set my alarm in order to witness this daily event, but sunrises are not my forte. Sunsets fit better into my schedule.
At the top of the hill looking out over the ocean was the privy. I may have missed the sunset, but I did enjoy the most incredible view from a toilet ever.
Backpacking Maine Coast back to trailhead
Since the beavers destroyed the return pond trail, I hiked back on the same coastal trail. I missed the blueberry barrens. Since it was late when I hiked out, the bright late morning sun provided a completely different perspective, so it almost felt like a different trail with different views. I arrived back at my car around noon, which put me in a perfect place to arrive in Bar Harbor later in the afternoon.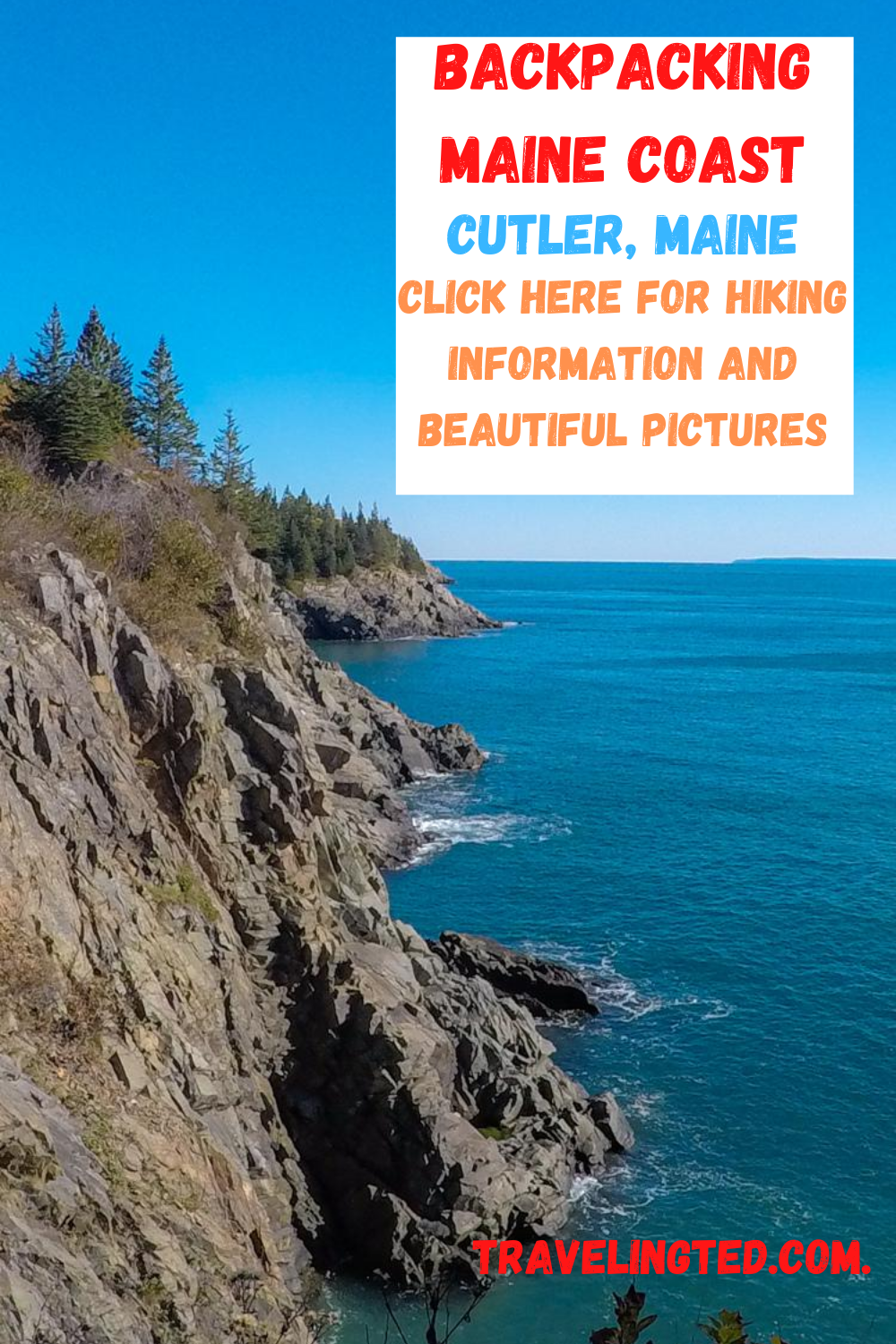 For more information on hiking and backpacking Maine's Bold Coast park and public lands, consult this page.
Adventure on!