Fotor is at it again as it has added several premium features to its basic editing services to give users a full spectrum of creative tools to play around with. Thanks Fotor design options, the websites is more than just a device for quick photo editing. Now you can enhance your photos even more and also make quality cards, posters, and social media images.
Related: Fotor for editing travel photos
Fotor HDR
The first option I chose to play with is the HDR option. The editor will take two or three pictures and combine them in order to make a really cool HDR shot. The pictures have to be pretty exact for this to work. If there is a lot of movement in the separate shots it will not work as it will come across all jumbled.
Even if the shots are not lined up perfectly with the HDR option, it still can be fun. Sometimes imperfection can be kind of cool. My friend Lewis looks like he has two faces and looks slightly demonic in HDR.
Fotor design
Fotor is more than a basic online photo editor. Fotor can also act as a great graphic design creator for special events. Create fancy ways to make special birthday cards and posters using the website and your photos. Since it is only a couple of weeks from Mother's Day it only makes sense to try out the card option for her.
You can also create a poster to promote an event. If I was ever going to do a winter ski exhibition I would definitely use the design options provided by Fotor. Check it out. I love how you can easily transpose a photo over a design and then play with the transparency option in order to clearly read the writing.
Everyone needs design help when it comes to social media. Whether you are a professional or just doing it to impress friends, it is great to have design tools like Fotor to play around with and make top quality images. Below I made a Twitter cover. For the two above photos and the one below, it took me about five minutes to create all of these images. I can only imagine what I will be able to create with more time to play.
Check out this YouTube to see a fun tutorial for some of Fotor's features.
Fotor also has mobile app technology for both the iPhone and the Android. More options to play with and with the mobil links you can do it while you are on the go.
Adventure on!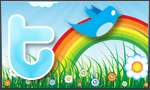 The goal of Traveling Ted is to inspire people to outdoor adventure travel and then provide tips on where and how to go. If you liked this post then sign up for the email newsletter. Notifications are sent out once or twice a month with what is new with Traveling Ted's adventures. There is no spam and email information will not be shared. Other e-follow options include Facebook (click on the like box to the right) or twitter (click on the pretty bird on the rainbow above).