Five reasons to get a guide at Manuel Antonio National Park
We agreed to terms with a guide to take the two of us through Manuel Antonio National Park. The entrance fee was $16.00 and the guide was $15.00 a piece. The first question you might as is it worth it to get a guide.
Read the previous post Manuel Antonio guide hawkers
I highly recommend getting a guide. They might be a little annoying at first with their tactics in trying to sell you a more expensive experience and then coming down in price considerably the closer you get to the park. The cost is only $15-20, so if you can spare the cash, it is worth it for several reasons.
1. The guides are trained to spot wildlife, and they know where to look. Plus, they can also tell you the names of any exotic birds, bats, animals, or insects that you see.
2. They do several tours a day, so not only do they know where to look, they also know where to look on a certain day. Our guide had spotted a charming hummingbird on its nest earlier in the day and voila, he was still there when we ambled by.
3. They all work together to spot animals. If an interesting animal is spotted, they will share it with other guides. We had the good fortunate of seeing a potoo. These odd looking birds are related to the owl and are extremely rare to see since they are mainly nocturnal and are well camouflaged. They are very territorial, so when one is spotted on a favorite tree, it will stay there for weeks until it decides to finally move on. The guides spotted one way up on a distant tree several weeks before. It was an impressive find by someone since this one was far away and blended into the tree. The guides have been sharing this site with many visitors since. If you did not pay for a guide you would have missed out on this unique opportunity.
4. They carry telescopes. The potoo we saw could only be seen through the telescope. Whenever they spot something, they quickly mount the telescope and direct it towards the target. You can also use the telescope as your personal zoom lens. You can point your digital camera in the view finder and take pictures.
5. They are good company. Costa Ricans in general are very friendly and the guides at Manuel Antonio are no different. They need to be personable to entertain people for an hour and a half in between the animal sightings, and they do a good job of this. The guides are also great resources for other places to go in Costa Rica and things to do as they are very knowledgeable about their country.
Manuel Antonio wildlife
We came to see sloths and monkeys, and we were not disappointed. About 5 minutes into the walk we spotted both a three-toed and two-toed sloth. The first two were high up in a tree, and we probably would not have seen without a guide. Then we came across a three-toed variety calmly eating leaves only twenty feet from the ground over the trail. He had quite a crowd of paparazzi taking photos.
We then saw the potoo and the hummingbird as well as a few other birds and some bats. That was really about it. It is best to come to the park early to see more birds. We did not get there until around 11 a.m. The other highlight was the monkeys.
We saw scores of white-faced capuchins, a species I incredibly missed the last time I was here. We also heard the unmistakable call of the howler monkey and soon after the animal emitting such a barbaric yawp. After this we took a swim in the beautiful beach inside the park. Be sure to keep a watchful eye on all food as raccoons and monkeys will rob you blind.
We dried off and headed out of the parking thinking our wildlife viewing for the day was over. While enjoying a beer at an outdoor bar, a family of squirrel monkeys swept through and climbed on top of the bar and swung across the street on the power lines.
Many people eschew the guides in order to save money. If you are on a strict budget and saving money is your thing, then you can do the park on your own. The trails are well marked, and it would be almost impossible to get lost in the jungle by accidentally wandering off the trail. You do not need a guide for your safety here; however, you will miss seeing lot of wildlife if you go through the park on your own.
In my two times in Manuel Antonio, I only did the main trail. There are actually quite a few more miles of trails that go deeper into the park. Next time I find myself here, I will take more than one day to explore the park and get off the main trail.
Adventure On!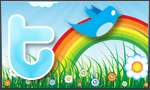 The goal of Traveling Ted is to inspire people to outdoor adventure travel and then provide tips on where and how to go. If you liked this post then enter your email in the box to get email notifications for each new entry. Daily travel photos are excluded from your email in order to not flood you with posts. There is no spam and email information will not be shared. Other e-follow options include Facebook (click on the like box to the right) or twitter (click on the pretty bird on the rainbow above).
On the right sidebar is a donate button. If you would like to donate in order to support the site, it would be appreciated. All donations would cover travel expenses and improvements to make the site better.