The biggest surprise of my recent trip to Southeast Asia was how beautiful and pleasant Kuching in Sarawak, Borneo is. I came to Borneo for the jungles and the wildlife; I did not think I would find a city that I connected to in such a positive way.
Related: Five things to do in Borneo
Kuching immediately remindful of the Chiang Mai vibe
In fact, Kuching reminded me of the Thai travel Mecca of Chiang Mai without the hordes of foreign tourists. I had not even heard of this town before I started researching for Borneo. Now, I can't wait to return and explore Sarawak even more.
For those unfamiliar with Borneo, the island consists of two Malaysian states: Sarawak and Sabah, the Kingdom of Brunei, which is its own country, and the rest of the island is Indonesia. Kuching is the capital and largest city in Sarawak. The population of Kuching is roughly 600,000 people.
Chiang Mai is possibly the capital of backpacking adventure travelers in Southeast Asia. The reason for its appeal is its pleasant vibe, friendly people, and gateway to many interesting trekking and tours. Chiang Mai is famous for its hilltribe tours where you can ride elephants, hike, ride bamboo rafts, see waterfalls, and then stay in remote hilltribe villages at night.
Comparing Kuching and Chiang Mai
The characteristics that make Chiang Mai so awesome can also be found in Kuching. In fact, I think Kuching has more to offer in this realm. Kuching is also a smaller city like Chiang Mai with an equally laid back ambiance and just as safe as Chiang Mai. In my limited time in Kuching, I found the people just as friendly and welcoming as Chiang Mai.
Trekking
The trekking opportunities in Chiang Mai are a little overblown in my opinion. They are fun, and I would do them again, but they do not compare to other world class outdoor adventure locations. The scenery outside Chiang Mai is hilly and more like Missouri or Arkansas in the U.S. Doi Inthanon, located a little farther outside Chiang Mai is a different story as it is more forested with the highest mountain in Thailand.
Related: Bako National Park photo essay
Kuching is also a gateway to incredible trekking opportunities. You can see semi-wild orangutans in Semiggoh Wildlife Reserve, you can see the giant rafflesia flower in Gunung Gading National Park, and you can see wild proboscis monkeys in Bako National Park. For those that like the hilltribe experience, you can have a similar tour by visiting a Borneo longhouse.
Temples and cats
The temples in Chiang Mai might be a little prettier than anything you will find in Kuching, but other than that, the city of Kuching is just as scenic as Chiang Mai itself. Kuching means cat, so if you are a cat lover you will love the plethora of cat statues found in the city. The capital of Sarawak has plenty of natural beauty with huge trees right in the middle of town in a couple of city parks. It is also found along the Sarawak River and another highlight of the city is a picturesque stretch found along the river front.
Food
On the food front I have to give Chiang Mai the nod, but not by much. Thai food with its amazing flavors edges out a lot of international cuisines, but the food from Sarawak stands up well. Since Kuching is not far from the jungles, fresh tropical fruit was everywhere. I loved having laksa, a spicy tasty soup, and since the city and state is surrounded by water, fresh seafood is another specialty.
The upshot is to visit Kuching also
The intention of this post is not a battle of two cities to see which one is better. It is only to state that Kuching has many of the positive aspects that make Chiang Mai such an international backpacking destination without the number of tourists. I recommend you put Kuching on your agenda for your next Southeast Asia trip. Over the next couple of weeks I will be featuring the adventure travel activities found in and around Kuching, so be sure to check them out.
Disclaimer: I was a guest of Planet Borneo Tours during my stay in Kuching. The comparison to Chiang Mai was my own observation and my opinion of the city was not swayed by their hospitality. I highly recommend them for tours and for a great place to stay while in Kuching.
Adventure on!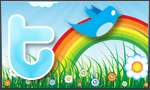 The goal of this site is to inspire people to outdoor adventure travel and then provide tips. If you liked this post then sign up for the email newsletter. Notifications go out once or twice a month with what is new with Traveling Ted's adventures. Your email will not be share and you will receive no spam. Other e-follow options include Facebook (click on the like box to the right) or twitter (click on the pretty bird on the rainbow above).