This weekend Chicago played host to the Windy City Tweet Up. For those who do not know what a tweet up is, it is when a bunch of like minded individuals correspond on twitter together and decide to meet in person. After tweeting back and forth for sometimes years, you feel like you get to know the minds behind the avatars and the 140 characters.
This is how the Chicago Windy City Tweet Up evolved. A group of travel twitters had met online and got along so well they got together in person in Austin, Texas. They then decided to meet again in Chicago. They also decided to bring in some of the local travel bloggers, and this is how I entered the picture.
The Chicago Windy City Tweet Up cast of characters:
The flamboyant Lola DiMarco from Boston and the force behind Lola's Travels
The Texas girl Leah who loves college football from Leah's Travels
Raul from Ilivetotravel from Atlanta who could not wait to sample Chicago deep dish pizza
Aaron from the Adventures of Elatlboy from Detroit who is super driver and came in for the day commuting back and forth from the Motor City
Francesca from WorkmomTravels who was another local along with myself and Pola.
Pola writes and tweets as Jetting Around, and she did a great job of leading the troop.
Sometimes it can be fun to be a tourist in your own city, but sometimes it can be a drag being forced to go to places for the ninth and tenth time. I used to have to go to Cubs games every time someone arrived into the city. After going a couple of times a year to see a team I did not like, I put my foot down and no longer say yes to a team that has not won in over a century.
Fortunately, there are a lot of really cool things to do and places to see in Chicago that do not get old. For me Lake Michigan and the Chicago River are amazing and every time I see either one I crane my neck to get a better view. I was delighted to find that the tweet up group wanted to do the Wendella Architectural Boat Tour. An $18.00 Groupon with a free drink that became available a couple of weeks ago made it a reality. Good job Francesca on spotting that one.
Even with an ugly cloudy day, the boat cruise was a great time. A beautiful sunny day would have been preferable, but clouds make for interesting photos.
After the boat cruise was up it was time for Cloud Gate AKA the bean. Another novelty that is always fun to check out, the bean is a great people watching place. It is fun just to sit and watch people do silly things in the reflection as if they were the first to ever think of it before.
After the bean and the fountains at Milleneum Park, it was onward to the Palmer House for drinks and then Exchequer for Chicago deep dish pizza. It was first time I have been to Exchequer as usually it is Giordanos or Pizzeria Uno for me, but the Exchequer did the job.
The best part of the tweet up was talking about travel and blogging. The number one topic was your next trip. Another frequent discussion topic was what works in social media. These are topics not usually discussed with family and friends, so it was great to have these conversations face-to-face over a beer instead of in a dark room staring at the computer screen.
To be a travel blogger you have to have a somewhat exuberant personality. If you were dull, no one would want to read you. This group was definitely not boring as goofy photos were enacted, extravagant boas were brought out by the ladies, and cameras flashed non-stop all day. Chicago was lolafied, polafied, elatlboyified, leahfied, raulified, Francescafied, and Traveling Tedified. It may never be the same.
Stay tuned,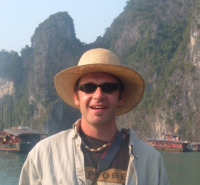 TT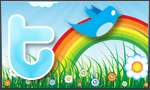 The goal of Traveling Ted is to inspire people to outdoor adventure travel and then provide tips on where and how to go. If you liked this post then enter your email in the box to get email notifications for each new entry. Daily travel photos are excluded from your email in order to not flood you with posts. There is no spam and email information will not be shared. Other e-follow options include Facebook (click on the like box to the right) or twitter (click on the pretty bird on the rainbow above).