When we arrived at Asa Wright Nature Center in Trinidad & Tobago, we were given a half hour bird tour on one of the hiking trails. We saw golden-headed manakins, crested oropendolas, purple and green honeycreepers, and many other beautiful species.
After the tour, it was back to the nature center for lunch. They had a wonderful buffet lunch with bbq chicken, salad, and pound cake. While sipping on coffee and eating my pound cake, I checked out the active hummingbird feeders and watched the brilliant white-necked Jacobin hummingbird in action. This species is just one of the 17 different kinds of hummingbirds that inhabit Trinidad & Tobago. Truly the hummingbird capitol of the world.
We had the opportunity to explore for a little over an hour after lunch. The choices included more bird-watching or swimming in a clear pool. Although I enjoy a good nature walk, it was hot, and I was ready for a swim.
I inquired at the front desk if they had a map of the trails. They did not have a map, but they guided me to where I wanted to go. She told me the clear water pool was an eight minute walk down the road. After six minutes we encountered two of our tour mates heading the other direction. They could not find the pool and wondered if they had gone too far. We said, it is two minutes more down the road.
Sure enough, in 120 seconds we were bathing in a clear pool underneath a waterfall. It was neither the clearest pool nor the highest waterfall, but in the 90 degree heat no one was complaining. I did a Pete Rose belly flop into the pool. Do not dive as it is only about three feet deep. The water was refreshing, and we swam to the waterfall and took an impromptu shower. There is nothing quite like swimming in a pool underneath a waterfall in a tropical country.
Soon enough, it was time to scramble back to the Nature Center. This little adventure illustrates the pros and cons of a guided tour. The positive aspect is you get to see really cool places with expert guides who do everything for you. Convenience can at times be, well, convenient. It also can open your eyes to how you want to travel next time.
How many times have you been to a place and you are already mentally thinking of the next trip at the same location? How many times have you echoed: "Next time I come to Asa Wright, I am going to . . ." You know it is a great adventure if you speak those words.
Next time I come to Asa Wright, I am going to stay for longer than four hours. This way, I will not have to weigh the trail options. I will hike them all several times over. When you come to Trinidad & Tobago, you should come here and stay longer too.
If this tour interests you then click here for more information.
TT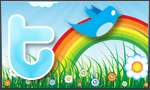 The goal of Traveling Ted is to inspire people to outdoor adventure travel and then provide tips on where and how to go. If you liked this post then enter your email in the box to get email notifications for each new entry. Daily travel photos are excluded from your email in order to not flood you with posts. There is no spam and email information will not be shared. Other e-follow options include Facebook (click on the like box to the right) or twitter (click on the pretty bird on the rainbow above).
On the right sidebar is a donate button. If you would like to donate in order to support the site, it would be appreciated. All donations would cover travel expenses and improvements to make the site better.