It seems like White River is as common a river name as Park Street is for a road. In fact there are three of them in Wisconsin alone. I had the pleasure of paddling the extreme northern version last week, and I cannot imagine a more amazing White River Wisconsin anywhere
White River Wisconsin is not a wild and scenic river
The White River in northern Wisconsin is not a wild and scenic river by designation; however, in reality it is. The Namekagon River and St. Croix River not too far away in northwest Wisconsin is a designated wild and scenic river as is the nearby Pine and Oconto. I have paddled all of these rivers and the subject of this post is definitely wilder and as scenic as any of those rivers with the wild and scenic moniker.
Other rivers sharing the same name in the state
The other rivers in this esteemed cluster include one near Lake Geneva along Sheridan Springs Road and another one near Waupaca, Wisconsin. There is also a famous White River that flows through the Ozarks in Missouri and Arkansas.
Related: North Fork River in the Ozarks
Put-in problem led to 20 mile paddle instead of 13.5
Before paddling this river, I researched Miles Paddled narrative saying this river has 13.5 miles of near continuous rapids from Maple Ridge Road in Mason, Wisconsin to the White River Dam. My friend Rick was car shifting me, and when we went over the bridge on Maple Ridge Road, we did not see a landing or even a trail down to the river.
We drove a few more miles into the small town of Mason. There we found a small park with a perfect landing. We assumed this was the landing that was 13.5 miles from the Dam.
I then proceeded to paddle for two hours before hitting the Maple Ridge Road Bridge without one rapids. I knew I was in for a long day at this point. It was a good thing I got off to an early start.
Mason, Wisconsin to Maple Ridge Road
This stretch was beautiful and serene, but it was all flatwater. There were three logjams, but luckily portaging was not necessary. The first one was the most extreme, but there was a big tree at extreme river right that had just enough space for the canoe to sneak under. I guided the canoe through and scrambled over the tree back into the vessel.
The next two logjams each had a tight corridor. I had to get out of the canoe standing on logs to ease the boat through and then deftly jumping back in.
It was a glorious day. The birds were singing the sky was a brilliant blue with cirrus clouds overhead whisking toward the horizon. During this stretch I saw two deer so close to the river that jumped and scared me to death as they were concealed in dense vegetation along the river banks.
I heard another loud thud, and turned to see a snapping turtle. The reptile had jumped from the high bank, hit the mud, flopped and somersaulted, and then gracefully splashed in the water. I gave that effort a 10.
Maple Ridge Road to the Flowage
As soon as I passed the bridge, the river went into a metamorphosis into the river I expected. The process was originally gradual with a couple of rifles, and then a rock garden, and then a little chute. Eventually, all sound disappeared except the sound of water shooting through rocks.
There were small breaks in between, but the chunks of rapids seemed to get more drawn out and the interval between rapids became more abbreviated. I did not think any of the rapids were quite technical or extremely challenging, but if you run 20 rapids in a row, you are going to eventually find an obstruction.
In one rapids, I poorly navigated and abysmally read the water wrong leading to my canoe being introduced to rocks and boulders at a fair rate of speed. Fortunately, the Mohawk canoe I paddled harmlessly ambled through the gauntlet.
The water level was just about perfect. It was not high water, but just enough to make the rapids fun and exciting.
Wildlife was off the charts
I experienced one of the most incredible days of wildlife viewing ever. The only experiences I can say bested this outing in nature was one phenomenal day in the Okefenokee Swamp where I saw a bobcat and a bear or perhaps a trip through a Costa Rican rainforest.
Not only were the sightings frequent, they were completely natural as the wildlife were not threatened by my presence. There is virtually no development along this stretch. I saw four cabins and one person along the river all day in my 20 mile adventure.
I saw at least seven deer, seven river otter, one beaver, and 20-30 bald eagles. Like I mentioned before, the nature of these sighting is what really stood out. The deer just stood by the water's edge and either completely ignored me or were shocked at my appearance and ran way.
Both reactions prove that not many humans make their way through this stretch. Paddling on a weekday also helped.

Two families of river otters
Suddenly, I heard this coughing sound, and a river otter bobbed in the current to my left. It had three offspring it was protecting. The mother kept rising above the water like a periscope to check me out.
I turned the canoe around and paddled back in their direction all the while keeping a comfortable distance in respect to their wildness. They kept playfully rising above the water and checking me out. Their curiosity was a mixture of fear and wonder.
I paddled on and around the next bend almost the exact scenario played out except this river otter only had two children.
I turned the next corner and beaver half in the water chewed on something as the current wetted its beautiful coat. Earlier, I believe I heard what could have been a bear rummaging in the woods as I coasted by.
I also may have seen a bobcat as I looked left and something compact jumped from the river's edge into the woods. I only caught a quick glance. It could have been a small deer.
Beautiful eagles
Once the river enters the rapids, there is a long stretch of virtually uninterrupted whitewater. Then there is a break for a couple of miles when Schramm Creek enters the river. After this lull, the river enters a series of natural areas.
The White River Breaks State Natural Area is the most prominent. Once the river entered this section it seemed a bald eagle took off from every tree limb. I saw five at one time.
I came across many immature bald eagles during this stretch and they were absolutely beautiful. Usually immature bald eagles are black with a little white and nothing too spectacular compared to their mature mates. The ones I saw on this river were just about coming into their white head and tail. They were a mixture of black and white and looked liked ghost birds.
They took my breath away when the flew away. Unfortunately, my good camera took a swim earlier in the week on the Brule, so I could only get an iPhone picture.
Second stretch of rapids a little more intense
The second stretch of rapids seemed a little more intense. There were a couple of times that they leaned towards Class II with some more volume to the water and a couple of nice chutes with standing waves, but nothing too extreme.
White River Wisconsin scenery is gorgeous
The scenery the whole stretch was extremely picturesque. The river flows throw many high red sand cliffs. The color of the blue sky coupled with the red cliffs and the white birch trees, green ferns, and green pine was just natural color overload.
There is nothing bad that can be said about this river except to find the right access point. After paddling past Maple Ridge Road, I can see where one can get to the river, but it is not really a landing.
One of the reasons this river is so untouched is there are no rental places that cater to it in the area. Adventure companies in the area tend to focus on the Brule River and the Apostle Islands, so getting a rental, not to mention a shuttle for this trip is tricky. I cannot thank my friend Rick enough for lending me his canoe and for the shuttle.
Pin for later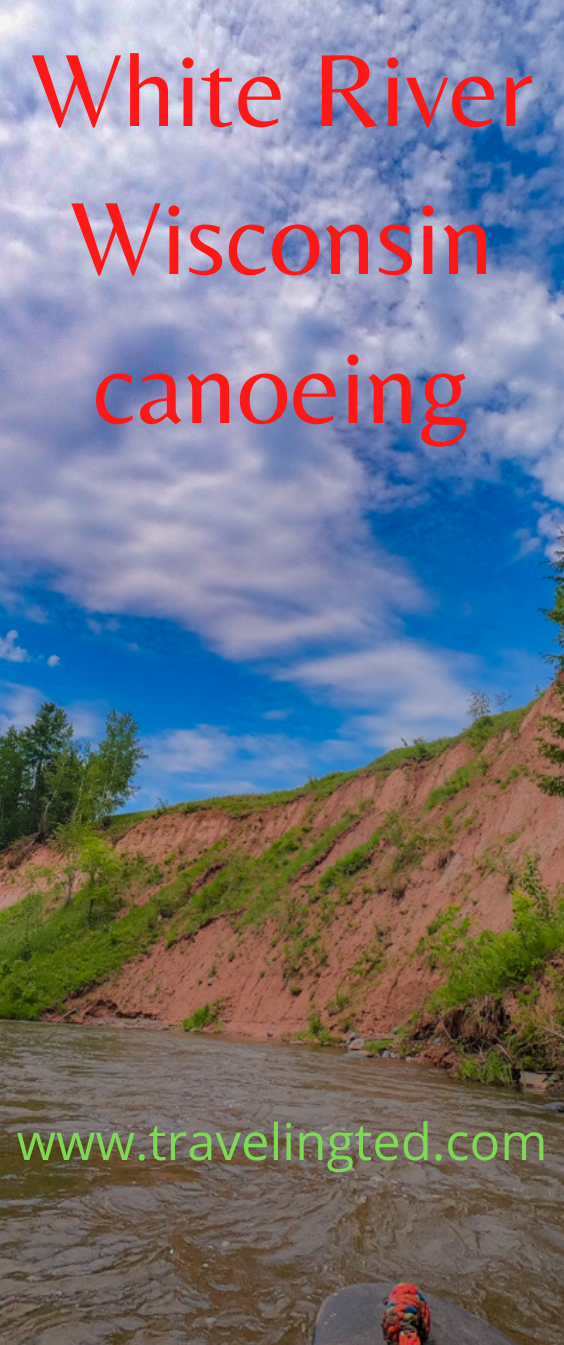 Adventure on!