It's so important to take a vacation and get away every now and then. For a number of people, though, taking a vacation can seem like a pricey event. This isn't how it has to be. Saving money on holidays is very possible. Here are several suggestions.
Don't pay airline fees
Some airlines charge you for every checked bag. Some airlines will charge for snacks. Some will charge for entertainment on your flight. You can avoid these fees by only packing a carry-on bag, bringing your own snacks on board the plane, or bringing your own entertainment like a book or a tablet to watch movies on. Take the time to look up any fees the airline might charge you and see if you can avoid them. 
Hit the road
It's often cheaper to avoid the airport altogether and drive. This may not be doable if you're going to a different country, but if you're just going a couple of states over, it might be doable. You can listen to audiobooks or your favorite music on the way. Or spend some quality time with your friends and family who are traveling with you.
Spend time doing research
Spending just a little extra time to search for the best deals and plan out your vacation can save you hundreds of dollars. You may also come across deals, coupons, and discounts as you search. Use apps like Groupon to see if there are any big discounts. Don't rush through planning your vacation. Make sure you're spending the right amount of time looking and planning.
Take a day trip
 You don't have to have an elaborate vacation for two weeks to some faraway land for it to be considered a holiday. Try traveling somewhere within a day's drive from your house. You'll be able to see new things, and you can still sleep in your own bed at the end of the day.
Travel during the off season
Visiting a sunny beach in Florida is much cheaper in September than it is in June. Snowy mountains are going to be more expensive in December than they are in March. Wherever you are planning to travel, you'll be able to save a lot of dollars if you avoid the peak travel times and go during the off season. An added bonus will be that it's not as crowded.
Try out a travel rewards credit card
 In many cases, credit cards will give you points for airfare and hotel purchases that you can then redeem with future hotel stays or plane tickets. This is a great way to earn future vacations. The majority of these cards do require good credit scores so make sure you use a "check my credit" feature with a service like Credit Sesame so you can see if you qualify.
It's important to remember that you don't need to have a lot of money to go on a holiday. You just need to be smart and do a little extra research and planning.
Adventure on!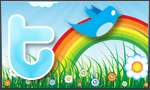 The goal of this site is to inspire people to outdoor adventure travel and then provide tips. If you liked this post then sign up for the email newsletter. Notifications go out once or twice a month with what is new with Traveling Ted's adventures. Your email will not be share and you will receive no spam. Other e-follow options include Facebook (click on the like box to the right) or twitter (click on the pretty bird on the rainbow above).