Today is Earth Day and this week is national park week. It is the perfect time to reflect on over 30 years of outdoor travels by chronicling my top five national park adventures.  My first national park was the Great Smoky Mountains National Park. I was only 11 years old, and I went on a three night hiking trip with my mom, dad, brother, and two of my dad's friends. This was perhaps the scariest and the most exciting adventure of all my trips.
My last two national park trips have also been fruitful on the adventure front. Last April I visited Big Bend National Park and had a brutal time crossing the Chihuahuan Desert in temperatures reaching triple digits. I had to carry all my water as there are no reliable springs along the route. Last 4th of July I revisited the Great Smoky Mountains and saw four black bears while hiking in the back country.
Five amazing national park adventures
Great Smoky Mountains
As I mentioned in the intro, this hike with my parents when I was just a lad was quite the experience. We got off to a bad start when we came across a swollen mountain river with no bridge spanning across. My parents spent over an hour trying to find a safe crossing. We ended up just going straight across. They took my pack across and helped me and my brother wade across safely.
We had a long hike ahead, and the time spent looking for an adequate crossing delayed us. We ended up getting stuck in the pitch dark with poor flashlights as we approached the Appalachian Trail. To make matters worse, a buck deer kept charging at us down the trail. It ran straight at us twice before stopping when it realized we were not another male deer. We finally made the Appalachian Trail and our shelter was only a half mile away. I wrote about this experience in more detail here
Everglades National Park
When I was in high school, my mom and dad, and my dog took off for winter break for two weeks in the Everglades. The highlight was canoeing out to Cape Sable, which is the farthest southern tip of mainland Florida. We camped on the beach after a grueling 13 mile paddle through mangrove swamps and alligator infested lakes. In fact, one of the lakes was called Alligator Lake. It was appropriately named as we saw nine swimming in the water peering at us as we paddled by.
When we were camping on the beach, the mosquitoes and the sand fleas were so bad that we escaped into the canoe and paddled out about a half mile into the ocean to catch a breeze. Then a shark fin emerged right next to our canoe and silently dove back underwater. We returned to the mosquitoes and the sand fleas.
Isle Royale National Park
Over 30 years ago, I went on a two week hike with my dad. We hiked from one end of the island to the other and then back. It took us two weeks. This was the longest hike I have ever taken and the longest I have spent at one time outdoors. It was amazing. We met the most incredible people too including this young couple from Lansing named John and Amy who we virtually became attached to at the hip as they were taking virtually the same route.
We saw several moose, fox, beaver, loons, and heard wolves. I returned to Isle Royale a couple of years ago and had plans to hike a similar trip, but hot and humid weather and problems with my water filtration system cut the trip short. I still enjoyed being back and seeing this beautiful park after all this time. Read about my Isle Royale misadventure here
Big Bend National Park
Last year I hiked the 30 plus mile Outer Mountain Loop solo. I knew it was going to be a tough hike when at the ranger station they took a picture of me, my backpack, and my boot soles in case I got lost. The last thing the ranger told me was to take more water than I needed. I heeded her warning, and I purchased two more liters of water and stuck it in my pack.
This water saved me and was a curse. My pack was incredibly heavy strapped with two gallons of water. Furthermore, I had to climb the 7,000 foot high Chisos Range. The next day was even tougher when I had to cross the Chihuahuan Desert in 100 degree heat. I thought I would be cooler in April as far as temperatures go. It was beautiful and cool the day I got there, but this did not last. I never felt I was in serious danger. I was just tired and thirsty. I would have been in a predicament; however, if I got lost, even for a mile or two. Fortunately, that did not happen, and I made it back to the Chisos Basin. I was never so glad to see buildings and a water fountain.
Zion National Park
All of the above national park adventures were actually not the best times during the moment. Sometimes the most memorable trips are the ones full of adversity. My hike in Zion was absolutely wonderful and nothing really went wrong. I spent two nights camping in the wilderness and camped in the Wildcat Canyon area the first night and Hop Valley the second. These two areas are not as heavily visited as the day hikes in the main canyon. They may not be as beautiful as the main canyon, but they are both pretty sensational in their own right.
I think I saw only a handful of people in the three days I hiked and just spent the whole time with my mouth wide open gaping at one amazing rock formation after another. Sometimes an adventure can happen when you just enjoy scenic beauty and have a great time outdoors. Writing about national park adventures has psyched me up to visit more of America's best idea. I am hoping to visit Theodore Roosevelt National Park later this year in North Dakota. What was your best adventure in the U.S. National Park system? Feel free to comment about it below.
Adventure on!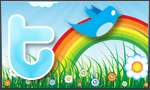 The goal of Traveling Ted is to inspire people to outdoor adventure travel and then provide tips on where and how to go. If you liked this post then enter your email in the box to get email notifications for each new entry. Daily travel photos are excluded from your email in order to not flood you with posts. There is no spam and email information will not be shared. Other e-follow options include Facebook (click on the like box to the right) or twitter (click on the pretty bird on the rainbow above).
On the right sidebar is a donate button. If you would like to donate in order to support the site, it would be appreciated. All donations would cover travel expenses and improvements to make the site better.