Surfing is a sport I have always been curious about. Growing up watching Wide World of Sports, Hawaii Five-0, and of course the famous Brady Bunch in Hawaii episode perked my interest in this adventure activity. I finally had a chance to try it out while visiting Costa Rica. Jaco surf lessons made this bucket list desire a reality.
Always have wanted to surf
My friend Paul and I, were staying at the Poseidon Hotel, which was only feet from Jaco Beach. When we first arrived, we took a walk down the beach and there were several surfers riding the medium sized waves that were coming in as the sun began to set.
We asked our hotel concierge if he had any recommendations for nearby Jaco surf lessons. He made a phone call and made a reservation for us with Jaco Laguna Resort Surf school for the next day at 2 p.m. It cost $45.00 per person for two hours. Mauricio picked us up at our hotel and drove us to the southern end of Jaco Beach.
Jaco surf lessons adventure
The surf school is attached to the Laguna Beach Resort. We passed a beautiful pool between the hotel property and the beach. There was also a thatched hut bar. I had a feeling there would be a drink or  two here after the lesson (they call this literary technique foreshadowing).
Unfortunately, Mauricio had an injured leg, so he introduced us to our hands-on instructor Alex. We started with basic instruction on how to lay on the board and how to stand up in order to catch a wave. Alex showed us the proper technique. We tried to follow suite and imitate his moves while he watched and provided constructive criticism.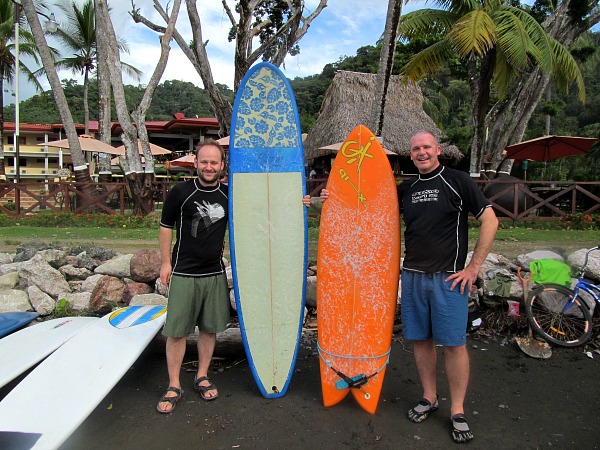 Surfers are well known for being the most chilled out people in the world. Alex and Mauricio definitely fit the stereotype. There were no stern words, raised voices, or even rolled eyes from this laid back tandem. Now that we got some instruction in and some practice, it was time to test out our new knowledge on the waves. Alex mentioned how it perplexed him that people would do everything right while on land and then do everything wrong once out in the surf.
Fantastic hands on lessons
Alex followed us out and showed us how to walk out to where the surf was breaking to catch a wave. He showed us safety techniques for how to make sure the board did not get swept away by the wave and crash into us. We then got on our board and paddled out a little farther before turning to catch the next swell. We then were told to paddle hard forward to gather some momentum and when the wave started to carry us to then stand up.
Trying to catch the next wave
I immediately did everything wrong and soon fell off the back of the surfboard. I thought that since I am an experienced skier and avid runner that the strength in my legs would provide good balance and help me pick it up easier. After a few falls, I knew it would not be easy. I was determined to figure this out though.
As soon as I crashed, I was up out of the water and turned around again to hit another wave. I tried my best to concentrate on the lessons Alex taught us, but it was difficult to focus with the adrenaline of the imminent ride. Eventually, I did get on and enjoy a couple of waves virtually to the beach. Despite the frustrations of learning by constant failure, I was having an absolute blast. I mean how could I not. If I crashed every time immediately, I was still on a beach in Costa Rica taking surfing lessons.
Surfing was surprisingly exhausting
Just as I was making headway and started to improve, exhaustion set in. I am sure if you are accustomed to surfing, the sport is more technique than physical, so it is not as tiring. When you are learning, and spending a lot of time in the water fighting the waves, paddling to catch the next one, and even just walking in the water, this begins to take its toll.
We took a 15 minute break and Alex told us some of the things we were doing wrong and encouraged us to remember the proper technique for standing on the board.  At this point, Mauricio took my camera and took some shots of us in action, which was a nice touch.
After a few good runs and many more crashes, it was time to head back to the beach. I had zero strength left. In fact, on one run near the end, I could not even raise myself off the board, so I just gave up and road the wave lying down.
Thoughts on surfing
It was a little harder than I thought, but more fun than frustrating
I was a little concerned about safety as I have heard of people breaking that backs and Mauricio was injured, but every time I felt unstable, I just bailed off he back of the board. If you jump behind the board the wave will not crash the board on top of you. I would definitely encourage all to try
Jaco was a great place to learn as the waves were perfect for beginners
I definitely recommend the surf school at Jaco Laguna Resort. Mauricio and Alex were tremendous and patient teachers and both really cool people
It was an honor to join the ranks of surfers like Stay Adventurous, Expert Vagabond, and of course Greg Brady.
Adventure on!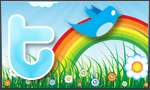 The goal of this site is to inspire people to outdoor adventure travel and then provide tips. If you liked this post then sign up for the email newsletter. Notifications go out once or twice a month with what is new with Traveling Ted's adventures. Your email will not be share and you will receive no spam. Other e-follow options include Facebook (click on the like box to the right) or twitter (click on the pretty bird on the rainbow above).