A waterfall request in northern Ontario
After a couple of days of exploring Samuel De Champlain Provincial Park, canoeing, and fishing, our Canadian friends asked if we had any activity requests. We fished for a couple of hours on Long Lake, but after that our itinerary was up in the air.
I asked if there were any waterfalls in the area. Ontario has perhaps the most famous waterfall in the world in Niagara, and I knew with the preponderance of lakes and rivers that there had to be more. I had witnessed some beautiful waterfalls in Quetico Provincial Park on previous Canada adventures.
Dave pondered for a moment and then suggested the Eau Claire Gorge. We would not be disappointed by this recommendation and it was not far either. It was probably only 20 minutes from the Champlain campground.
On the way to the Eau Claire Gorge
We turned off on Highway 630 and soon we chugged down a country road. Before we made it to the falls parking lot, we passed a big sign for poutine along the 630. My eyes were wide as we passed by.
We were the only car in the Eau Claire Gorge Conservation Area parking lot. There is a roughly 2 kilometer loop trail, but there are shortcuts one could take to go directly to the waterfall if a walk in the woods is not a priority.
A poutine waterfall adventure
We soon heard the familiar roar of a cascading river signifying water crashing over rock. The beautiful Amable Du Fond River goes spiraling down through this impressive gorge with astounding force. The trail provides several favorable access points for taking pictures.
A little farther down from the falls, a steep path descends to another rock outcropping that gives a fairly unobstructed view of the lower falls. Use extreme caution overlooking the falls as pine needles cover the rocks above. It is very easy to slip on pine needles and a fun visit to a beautiful waterfall could easily turn tragic. Make sure to keep an eye on the kids.
While we were taking pictures of the waterfall a couple came down the trail to check it out. They said they had seen Niagara, so they wanted to see this one as well. I couldn't help but imagine how different the two falls are. Niagara is much bigger, but it is surrounded by a ton of tourist hype and hordes of people. The Eau Claire Gorge was miles from a major city in the middle of a very green forest. Although I do want to visit Niagara one of these days, I definitely prefer a waterfall in a more pristine environment.
We headed back to the car and Dave asked if I saw the poutine sign and asked if I wanted to stop. Having fished all morning and hiked to a waterfall, I had developed an appetite. We soon found ourselves at Liam's Poutine stand with a heart stopping mound of French fries, cheese curds, and gravy. The poutine waterfall adventure had turned out perfect.
Liam's Poutine stand
Poutine originated in Quebec, and we were only a few miles from the Ottawa River, which serves as the boundary for the two provinces. Poutine has spilled over the border into Ontario just like the fries and cheese curds were oozing over our food container.
I enjoyed my first poutine last year in Toronto, and I was hoping to enjoy again on this trip, but was not quite sure there would be the opportunity since we were camping in a remote area. I was quite pleased to see the sign although I was told they can be found in many fast food stores in Ontario including Wendy's and A&W.
The poutine did not disappoint. For only 7 Canadian dollars, my dad and I shared a large. This easily filled us both up and satisfied a well deserved hunger. Our two Canadian friends liked theirs too although they mentioned if the cheese curds were more melted and if they used turkey gravy instead of beef it would have been been better, but I found mine tasty nonetheless. One of the great things about poutine is it seems no two are made the same, which means I will need to study the differences in future trips.
After stuffing ourselves silly, it was back to camp at Champlain for another beautiful night under the stars. It was our last in northern Ontario as it was time for the long drive back to Chicago, but I was thankful we got an awesome poutine waterfall adventure before returning home.
If you are ever in the Mattawa River, North Bay, or Champlain campground area, I recommend you check out this waterfall and Liam's Poutine in Eau Claire, Ontario.
Eau Claire Gorge tips
If you have time walk the whole trail as the forest is deep, dark, and lush and worth a little extra walking to explore
Bring mosquito repellent
Stay away from the edge at the gorge as pine needles can be slippery as can wet rock
Hike down the steep path to the rock outcropping below to get a good look at the lower falls, but again be careful on the pine needle covered slope
Click on this link to get a location map to Liam's Poutine – There is a pottery shop next to the poutine stand – Get directions to the Gorge from there as it is just down the road to the right on a gravel road off the 630.
If you are canoeing this stretch of the Amable Du Fond, do not miss your portage as this stretch is deadly
Adventure On!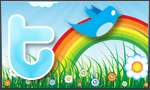 The goal of Traveling Ted is to inspire people to outdoor adventure travel and then provide tips on where and how to go. If you liked this post then enter your email in the box to get email notifications for each new entry. Daily travel photos are excluded from your email in order to not flood you with posts. There is no spam and email information will not be shared. Other e-follow options include Facebook (click on the like box to the right) or twitter (click on the pretty bird on the rainbow above).
On the right sidebar is a donate button. If you would like to donate in order to support the site, it would be appreciated. All donations would cover travel expenses and improvements to make the site better.