Florida as a premier canoe state
Florida is one of the premier states for canoeing and kayaking adventure. There are hundreds of miles of shoreline on two coasts to kayak on, the Everglades and Big Cypress loom in the south if you are favorable to swamps, and the state is crisscrossed with a wonderful network of navigable streams.
I had a taste of one of these rivers earlier in my trip with an outing on the Hillsborough River near Tampa. The next river on my list arguably is the most pretty in the state.  The beautiful Ichetucknee River in north central Florida is a spring fed river, which is crystal clear, and incredibly scenic.
A rare Florida cold spell
Florida had turned into a chilly experience and not the normal sunshine state visitors come to expect. It was so cold and crappy that I ended up going farther south than I intended with a trip to Collier-Seminole State Park on the border of the Everglades. I finally found warmth near Fort Myers.
I left the Panther Recreation Trails just north of the Big Cypress and it was near 80 degrees. I got into my car and drove straight to Orlando, and I lost 35 degrees in the three hour process. The temperature was so cold that they closed Three Sisters Springs in the Crystal River National Wildlife Refuge.
All canoe plans were canceled for two days. Finally, it warmed up enough to take a short paddle on the crystal clear Ichetucknee River. Because of its clear water and lack of alligators, the Ichetucknee is immensely popular with tubers in the spring and summer. There were no tubers on this day and only a couple other paddlers.
Paddling the beautiful Ichetucknee River
The Ichetucknee is lined with cypress and other trees covered with Spanish moss. The clear water, the greenery on the shores and the ominous large trees with hanging vegetation creates an otherworldly scene like something out of a Tim Burton Halloween movie. You can call it stark, bare, or eerie, but the scenery has a way of gripping your soul and your mind wanders back to your canoe long after the last drips of water have dried off your paddle.
Abundant wildlife
With any Florida stream, you can count on a wide array of birds, and the Ichetucknee did not disappoint. Black-crowned night herons crouched under stumps waiting for a crayfish or a minnow to come within striking distance of its deadly beak.  Great-blue herons flew and squawked around every bend. Wood ducks scurried and bleated from under hiding spots near the shore. Coots gathered in bays while turtle conventions met on exposed dead trees waiting for quorem. We even saw remnants of the busy beaver at work with gnawed trees and even a home near the put in.
Due to the cold water we thought me might get lucky and see a manatee or two. They usually do not swim this far inland, but with the vicious cold snap gripping most of Florida, it was possible to see a few warm water seekers. We did not end up seeing them, but my father sent me the picture below from a trip later in the spring to prove they sometimes are found here.
We did not do a car shift here.  We put in at a parking lot off of Highway 27 out of Fort White, the first right before you cross the bridge, and paddled upstream for a little over an hour to a picnic area at the primary entrance to Ichetucknee Springs State Park at the main spring, had lunch and paddled back to the parking lot. There were three canoes in the group as my Dad paddle with Rosetta and, we were joined by Dave and Lana from Canada, and I paddled with Bud from St. Louis.
When you are in the front drinking beer and taking pictures, it is nice to have a patient paddler in the stern who does not mind keeping the boat heading forward while I try and take pictures of egrets, ibis, and herons. Thanks Bud.
Although we did not see any manatees and the temperature was still on the cold side, we managed to have a nice little paddle after hunkering down for two days in a Florida cold snap.
TT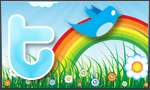 The goal of Traveling Ted is to inspire people to outdoor adventure travel and then provide tips on where and how to go. If you liked this post then enter your email in the box to get email notifications for each new entry. Daily travel photos are excluded from your email in order to not flood you with posts. There is no spam and email information will not be shared. Other e-follow options include Facebook (click on the like box to the right) or twitter (click on the pretty bird on the rainbow above).
On the right sidebar is a donate button. If you would like to donate in order to support the site, it would be appreciated. All donations would cover travel expenses and improvements to make the site better.