When you think of the worst campsite ever, what are some of the criteria you use to judge a good or bad campground?  I will tell you mine, and if I miss any you can point them out in the comment section below.
1.  Amount of trees
Trees provide shade, cover from rain, and give a limited source of privacy. They are also pretty and a grassy campground without a tree is about as ugly as a recently burned forest. Who wants to pack up all their belongings and head to a bare grassy spot packed in with other people? Not me.
2. Space
It is nice to be able to spread out a little bit in a campground, especially if you are sharing it with other people. You don't want to be in each others faces all weekend. Space is also nice to have from your neighbors. I once pulled into a campsite in Key West, Florida and the neighbors were sitting on their picnic table two feet away.  They almost had to move when I opened up the car door. I like and enjoy people, but that is a little too much. As Cole Porter once opined, "give me land lots of land: don't fence me in."
3. Price
One reason I like to camp is it is considerably more economical. By spending a night or two without comforts, I can afford to travel more and do more when I am traveling. On this recent trip to Ohio, there was a lot of rain in the forecast, and I was considering staying in a hotel. The rain broke when I reached Hocking Hills. The clerk in the campground said the price was $26.00. My face about dropped. I should have turned around and hit the hotel.
I spent $50.00 in the Key West campground I mentioned above, but I was in Key West. One of my favorite spots to camp is the Wisconsin River. The price for a campsite on a sandbar – $0.00. In fact, most camp spots in Wisconsin run $12.00 – $16.00. When I got to my site and saw no trees, I could not believe I let myself get suckered in. It is sometimes a good idea to see the spot before you pay. This site was the last one open, so I figured if I wanted to camp, I better act fast.
4. Campsite amenities
I will lump in a few together with this one. Is there a good flat spot to put up the tent? Is there a picnic table? Is there a good place for the campfire? Is it close to water and toilets, but not too close to the toilets. Are there hot showers? A new technology aspect to add would be wi-fi access or outlets for charging. Let me know if I missed any others.
5.  Access to cool outdoor recreation
Camping along the Wisconsin River you have the river right at your doorstep to swim, fish, or just watch the current flow. Although the Key West campsite was pretty lame, I was only a mile or two from one of the best tourist spots in America. In defense of my Hocking Hills campground, there was a trail to the gorge and waterfalls not too far away, so it did have some redeeming qualities.
Why the Hocking Hills Campsite was the worst
I pulled into my Hocking Hills campsite and was immediately disappointed with the lack of trees. There was not one. Furthermore, my neighbors were two families with an abundance of kids. I don't mind camping next to families, but when your camp spot is tiny without a tree, it can be miserable. I was upset with the campground not the family. Actually, they were relatively quiet and went to bed early, so they were not a factor.
The rain then came back and the one positive about the campsite became a detriment. The tent place was nice and flat, but it was in a depression, which soon filled with water, so I had to move my tent up on the grassy incline.
I have already mentioned I spent more than twice of what I would have paid at a Wisconsin campground, the site was small, and there were no trees. This is why my campsite at Hocking Hills was the worst ever.
Driving around the campground, there were some good camping spots, but there were others that were more of the same. If you can stomach paying $26.00 for a site in Hocking Hills, I would recommend you pick your spot first, and if you don't like what is available, move on to the hotel or another campground.
Hocking Hills is a nice place with pretty waterfalls, trails, and gorges, and this post is not intended to draw people away. I just did not like the campground and particularly the spot I was stuck with.
TT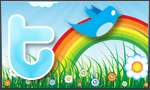 The goal of Traveling Ted is to inspire people to outdoor adventure travel and then provide tips on where and how to go. If you liked this post then enter your email in the box to get email notifications for each new entry. Daily travel photos are excluded from your email in order to not flood you with posts. There is no spam and email information will not be shared. Other e-follow options include Facebook (click on the like box to the right) or twitter (click on the pretty bird on the rainbow above).
On the right sidebar is a donate button. If you would like to donate in order to support the site, it would be appreciated. All donations would cover travel expenses and improvements to make the site better.