In Trinidad & Tobago, J'Ouvert (pronounced jouvay), opens Carnival festivities early Monday morning. The J'Ouvert celebrations start between 2am through 4am and continue until 9 am.  It is one of the few parties you will ever have to set your alarm to wake up and drink for. If you are a true hardcore partier, you might just continue the all night binge from Sunday night.
The term J'Ouvert is a French term coming from the words jour and ouvert. The two words mean day and open and together they translate to daybreak. Revelers gather in different bands and follow trucks strapped with huge speakers. The trucks play soca songs, which is a fusion between calypso and Indian music.
There are many different bands to join. They are all inclusive and cost between $40.00 and $100.00. When you join you get a drinking cup, wristband, and instructions on where to gather. The instructions state to "not bring ah friend" or "tell ah friend" where the gathering point is.
When you join an all inclusive J'Ouvert operation it is referred to as "playing in a band." The same can be said when playing mas, which is the term used when you join a Carnival all inclusive unit on Monday and Tuesday. There are no musical instruments that go along with playing in a band. When you join a band for J'Ouvert or for Carnival it just means you are following the group you signed up for. "Playing in a band" is just a unique way of saying you are joining a certain group for a parade.
We joined the Chocolate City band. It cost $78.00 usd and we got fed, all inclusive drinks, and a Chocolate City t-shirt. We met two young ladies from Guyana who had played J'Ouvert with different bands for 8 years. It was their first time with Chocolate City. They were disappointed in the experience.
Their complaints included: no security, so anyone could join and party along, they were dissatisfied with the music, the DJs on the music truck talked to much, and the food portion was tiny. Inside our Chocolate City goody bag were detachable tickets for corn soup, chocolate, and breakfast.
The corn soup consisted of one small stryfoam cup of the delicious local favorite, and breakfast consisted of one small double (basically a small local burrito). At 9am when I was served breakfast after drinking and dancing the night away I consumed my double in two bites. Local intelligence stated that last year Chocolate City cost $40.00 and registrants were fed bake and shark to begin the ceremony. Therefore, prices went up and quality of food went down. Chocolate City either did not get a sponsor or it might just be a reflection of the local economy.
After consuming our corn soup the ceremony began, but first we had to procure our chocolate. We turned in our chocolate ticket and were given a pint squeeze container filled with liquid sweetness. We started following the music truck, dancing, and spraying each other with chocolate.
We were led by the music truck and just behind the truck emanating tunes was a truck I was much more interested in. We also had a mobile bar. The bar truck sauntered in the middle of the chocolate city revelers. Drinkers just had to hold their cup up and bartenders in the truck would either fill it with beer or rum.
Sometimes it was easy to get a drink. One time I had to wait 30 minutes. The whole time I had to walk with the truck and hold up my cup in order to get the bartender's attention. My calves were sore for three days after constantly performing this awkward move. One time the truck quixotically stopped serving all together. No reason was given for this hiatus in spirits.
There were no bathrooms at all. Men had an easy time finding a tree on the side of the road, but ladies were not so fortunate. You would think for such a festive drinking occasion Port of Spain would erect a city of port-o-potties around the parade routes of Carnival and J'Ouvert. Port-o-potties were as common as a Western Indian manatee in the streets of Port of Spain. Consequently, the Trinidad & Tobago capital turns into a river of urine for three days.
Despite the lack of food, difficulty in sometimes getting a beer, awkwardness in going to the bathroom, and other issues mentioned within this post, Chocolate City was a blast. Walking down the street of capitol with a beer in hand dancing with pretty Guyanese and Trini women is my kind of way to spend a vacation.
Although I enjoyed the experience, I would not do Chocolate City again nor would I recommend it to a new comer. The price does not match the services offered. They need to upgrade their food, security, and music or decrease the amount of admission. I would highly recommend playing J'Ouvert, but I would recommend research and joining a different band with better amenities or a better price.
The dance of choice at J'Ouvert and in Trinidad & Tobago during Carnival is called the wining. It consists of a women bending down and a man coming up and grinding on her stuck up rear end. It sounds very risqué, but it is quite innocent in a way. As soon as the dance ends the participants go their separate ways as if they just shook hands:  More on this phenomenon later.
As the sun rose we were a chocolate and sticky mess. Then mass hysteria broke out as we reached the water trucks. As we re-entered Port of Spain we were greeted by trucks with people with water hoses. They sprayed us to the delight of everyone as the music truck screamed a soca water song.
The sun soon started beating down on the tired Chocolate revelers. The once energy filled parade enthusiasts were starting to tire. Better load up on the caffeine or get some quick rest because it is now Monday and Carnival has begun.
Stay tuned,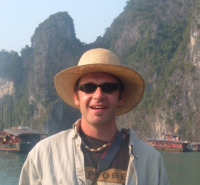 TT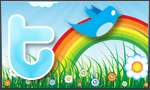 The goal of Traveling Ted TV is to inspire people to outdoor adventure travel and then provide tips on where and how to go. If you liked this post then enter your email in the box to get email notifications for each new entry. Daily travel photos are excluded from your email in order to not flood you with posts. There is no spam and email information will not be shared. Other e-follow options include Facebook (click on the like box to the right) or twitter (click on the pretty bird on the rainbow above).
[subscribe2]