With talk of the end of the world or Rapture, as one radical group calls it, there is more and more concern of the possible coming of the zombie apocalypse. Fictional accounts in movies have added to the public interest. There are even zombie apocalypse bloggers out there.
A good way to practice for the future catastrophe is by coming to the rural hill top community outside of Port of Spain called Paramin. On Carnival Monday, the dreaded blue devils make their appearance with scary pitchforks, blue paint, and fire breathing antics.
The best way to avoid an ugly situation with these scary zombie creatures in costume is to give them a few Trinidad dollars and perhaps they will leave you in peace. Come early on Monday evening to see them as they saunter off to the safety of the dark hills later at night to plot next year's antics.
Before they leave, they exit with some scared and maybe even scarred visitors whose wallet is a little lighter from the experience, but at least they survived. Perhaps they have learned a lesson or two that someday could come in handy if they ever come across beings as frightful as the blue devils of Paramin.
To get here you will either need to take a jeep tour, rent a driver, or if you are really brave, rent a car. The roads go straight up the mountainside and it is easy to get lost if you do not know your way.
TT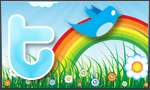 The goal of Traveling Ted is to inspire people to outdoor adventure travel and then provide tips on where and how to go. If you liked this post then enter your email in the box to get email notifications for each new entry. Daily travel photos are excluded from your email in order to not flood you with posts. There is no spam and email information will not be shared. Other e-follow options include Facebook (click on the like box to the right) or twitter (click on the pretty bird on the rainbow above).
On the right sidebar is a donate button. If you would like to donate in order to support the site, it would be appreciated. All donations would cover travel expenses and improvements to make the site better.