The Lonely Planet calls the endangered squirrel monkey one of the cutest animals you will ever see in its section on Corcovado National Park in Costa Rica. This is perhaps one reason their numbers are diminishing. Their cuteness makes them tempting pets.
I had a chance to get up close to these beautiful animals when I recently visited Corcovado National Park. Although they are cute, I would reserve that term for baby seals, koala bears, and tarsiers. I would call the squirrel monkey more soulful than adorable. The one I got close to seemed deep in thought like he was contemplating the world's problems.
At one point while taking photos of the peaceful creature, our eyes locked. When its penetrating gaze met my eyes, I felt it was communicating with me. It is not like he spoke, but I felt it was confused about something and was trying to question me.
If I could relate its stare of wonderment and put into words its expression it would go something like this:
I do not understand why some people come into my home and appreciate it and take pictures of me and fawn over me when at the same time others come with chainsaws intent on clear cutting. Why are humans conservationists and at the same time destroyers? Why do some come into my jungle and take pictures of us while others come and take us away in boxes to never see our beautiful trees again?
Why are some places protected and put aside like Corcovado while others are razed to the ground in order to make room for ugly animals like cows? Why do people say we are so cute yet cut down our home to make room for cows?  
Why do some people come into Corcovado and enjoy it so much whereas others come to illegally kill some of the animals? Why is it that some of my forest brothers disappear in order for their parts to be used in some Chinese ritualistic medicine?
Perhaps it was not the squirrel monkey asking these questions, but my conscience pondering them. The quizzical expression on the squirrel monkey was just a reflection of my own wonderment at how much our race has screwed up so many of our wild places. We must now put backpacks on and take off on adventures to find remote unexplored regions.
At least for a moment or for two days I was here. I had found one of those undiscovered corners. Here I was standing in the middle of one of the lushest jungles in the world taking a photograph of an endangered species only 20 feet from me. How is an incredible animal like this even on the endangered species list in the first place? This question and the questions above neither I nor the squirrel monkey could answer.
TT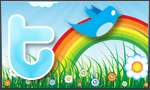 The goal of Traveling Ted is to inspire people to outdoor adventure travel and then provide tips on where and how to go. If you liked this post then enter your email in the box to get email notifications for each new entry. Daily travel photos are excluded from your email in order to not flood you with posts. There is no spam and email information will not be shared. Other e-follow options include Facebook (click on the like box to the right) or twitter (click on the pretty bird on the rainbow above).
On the right sidebar is a donate button. If you would like to donate in order to support the site, it would be appreciated. All donations would cover travel expenses and improvements to make the site better.