We blog because adventure travel is our passion, and we are just as devoted to writing about it. We love travel so much we want to share it with others. The travel blog is the media we chose to broadcast our love, our helpful information, and our stories to others. Sometimes though we go overboard and become an obsessive travel blogger.
Travel blogging is a very healthy activity. Just like any activity, if one becomes too engrossed in it, it becomes an obsession. An obsession is not considered healthy. Here are five signs you may be a travel blog junkie listed in order of severity. If you find yourself doing the yellow light warnings, you are safe. Anyone who is passionate is going to straddle the fence of obsession; However, if you find yourself hitting the red lights – get help.
Five warning signs you are an obsessive travel blogger
5. Every experience is framed in how you would blog it – Yellow light
When you meet a really cool person on the road instead of saying "what a cool life experience," you think, "what a great post." Even non-travel related experiences or important news events become possible nuggets to post on your travel blog. You bring a camera with you everywhere in order to not miss out on opportunities for your next great post.
4. You click on your travel blog on multiple computers each day – Yellow light
You have two home computers and each day you start by googling your home page, on each computer (this helps your google page rank), and click on your travel blog. While waiting in line for coffee you get out your iPhone and click on your travel blog. You arrive at work, say hello to co-workers, and the first thing you do at work is to click on your travel blog from your work computer.
3. You talk about your blog constantly – Yellow light
One of the first things I tell people I meet is that I write a travel blog. I do this because it is a hobby I am proud of. Plus, it interests people. When I say I write a travel blog they usually ask questions like what is the URL, where have you been, what are your favorite places.
On the other hand, if you tell people unsolicited how many twitter followers you have, what your Klout score is, and your Alexa rank, then you might be becoming a bore. If you begin every sentence with "I wrote a travel blog entry once," you may successfully be making travel talk boring, which is very difficult. You are getting close to becoming an obsessive travel blogger.
2. You visit the library just to get page views – Red light
You visit the local library not to check out books, but to use their computers (all twenty of them) in order to visit your website. Each one you stay on your site for over five minutes and visit multiple links to improve bounce rate and average time on site. Yes, you are a slave to google analytics, and you are an obsessive travel blogger.
1. Setting your travel blog as your home page – Red light
If you set your travel blog as your home page on your home computer, this is okay, although possibly a little odd. However, if you compulsively set your travel blog as the home page on other people's computer when visiting then you may be going overboard with your google rank, page views, and Alexa score, not to mention a little devious. You have become an obsessive travel blogger.
Adventure on!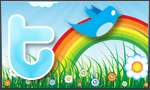 The goal of Traveling Ted is to inspire people to outdoor adventure travel and then provide tips on where and how to go. If you liked this post then enter your email in the box to get email notifications for each new entry. Daily travel photos are excluded from your email in order to not flood you with posts. There is no spam and email information will not be shared. Other e-follow options include Facebook (click on the like box to the right) or twitter (click on the pretty bird on the rainbow above).
On the right sidebar is a donate button. If you would like to donate in order to support the site, it would be appreciated. All donations would cover travel expenses and improvements to make the site better.