In between Wisconsin River trips this summer, I took time to drive north in the Driftless Region and partake in a Kickapoo River canoe poling adventure. The Kickapoo River from Ontario, Wisconsin is perhaps the most popular canoeing stream in the Midwest. Five outfitters clog the shores as you arrive in Ontario. Each one sells out on Saturdays during the summer. I paddled this river over 30 years ago on one of these weekends and have never been back until now.
More outfitters than restaurants in Ontario, Wisconsin
Ontario, Wisconsin is sometimes called the canoe capital of the U.S. or at least the Midwest. There are more canoe outfitters in this town than there are gas stations or restaurants. It is a one horse town, but a five canoe rental town. I saw a billboard for Titanic Canoe Rental as I was driving through the Driftless Region, so I went with them.
Related: Paddle the Wisconsin River for the best canoe camping
It was not hard to find. Ontario is a really small town. All of the outfitters are congregated in the middle of town along the river. I pulled in rather late in the afternoon to Titanic. I was afraid this might hurt my chances at a rental, but it turned out to be no problem. After paying $40.00 for a canoe, I got a PFD and parked my car. I drove down to the river where the canoes were and unloaded my gear and then parked. The canoes were in a pile in the middle of the turn around. I helped myself to one and took off. It was incredibly simple to get started. They were going to pick me up a 6 p.m. at bridge number 12.
The beautiful Kickapoo River
It did not take long to realize why this river is so popular. Sand bottom river with beautiful limestone bluffs and picturesque tree covered bluffs in the distance. The shore was lush and green with swaths of yellow flowers on both sides. The weekday is the time to run this river. For long stretches I had the river to myself. I think I saw about nine other canoes during the day. This may sound like a lot of canoes, but this number is paltry compared to the weekend. You do pass under 12 bridges, so there is that and the occasional car noise. The bridges seem to go by in bunches though and there are stretches where the river is wild and scenic.
Related: The Driftless Pine River deserves your respect
It seemed the most remote and scenic spot was the section going by and below Wildcat Mountain State Park and just after. Be sure to get a picture of the mountain with the bluff as there is only one section of the river that has this view. I missed it. I thought I might get a better view later since it is an extremely windy stream, but it only passed under the bluff once.
There was one really scenic spot where the water was extremely shallow and gave way to a little drop off right below a scenic bluff. I stopped here and swam for a bit. I walked along the sand and then jumped in at the little drop off and floated downstream and returned. There are a lot of nice spots like this along the river to get out and wade or swim. Check out the video for the swimming scenes.
Kickapoo River canoe poling adventure
I actually did not stick my canoe paddle in once during this trip. Instead, I used my Hayden Canoe pole. The Kickapoo River is the perfect river for canoe poling. It is virtually all sand or gravel bottom. The water level was a little low, but there was always a navigable channel. Low water is not a bad thing when canoe poling, so I was not complaining. There was only one riffle of any note with a clear navigable V. There are a few deadfalls, but there was not one section that felt difficult. The Kickapoo River is the perfect river for a beginner paddler and a beginner canoe poler. This was only my fourth time poling, so it is a skill I am still getting used to.
Just like the Wisconsin River, there is no glass allowed. I brought some beer, which I enjoyed as I floated down the river. I took all my empties with me. Despite the amount of paddlers that use this river, it was surprisingly clean. Someone must clean the river because I am sure the weekend throngs leave a decent amount of trash. I did see a few beer cans, but the river looked wild and natural.
Threatening rain
It clouded up and at one point rained for about twenty minutes. It quickly stopped, but the threat did not. Thunder seemed to follow me the last four or five miles. I pulled into the take out past bridge 12 at about 5:30 p.m. It took me a little under 6 hours to complete. I could have done it faster, but I made a few stops and took a lot of photographs and video.
I hoped the livery service might come a little earlier and not wait until six. I have AT&T and their service is poor to non-existent in the Driftless Region, so I could not call. They showed up about 15 minutes early just at it started to rain, which I was very thankful for.  I do not think it stopped until the next morning as it poured the whole way back to Ontario and the whole ride to Madison. I lucked out getting off the river when I did.
Rediscovering this river during my Kickapoo River canoe poling adventure
As I mentioned before, this was my first time on the river in over three decades. Growing up, the Kickapoo was a staple, but it fell off our yearly itinerary due to the crowds and a preference for the Wisconsin River. I really enjoyed the canoe poling, the ease of the canoe rental and livery, and the scenery of this beautiful river. Like Arnold Schwarzeneggar once said, "I'll be back," but only on a weekday.
Adventure on!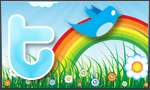 The goal of this site is to inspire people to outdoor adventure travel and then provide tips. If you liked this post then sign up for the email newsletter. Notifications go out once three to four times a year with what is new with Traveling Ted's adventures. Your email will not be share and you will receive no spam. Other e-follow options include Facebook (click on the like box to the right) or twitter (click on the pretty bird on the rainbow above).