I am not sure why the beautiful color of blue is also synonymous with feeling sad. It is arguably the most beautiful color in the spectrum. Blue is a good thing in most other respects. Blue skies shining on me, old blue eyes, sparkling blue water are all overwhelmingly positive attributes. After a day of canoeing, running, swimming, and camping in Blue Springs State Park, you will see I was feeling far from blue. I think if you read this post and see my adventures, it will make you green with envy.
Blue Springs State Park has always been on my radar
I have been coming to Florida for many years for beaches, canoeing, camping, wildlife viewing, and over all great adventures. Blue Springs State Park has always been on my radar, but for one reason or another, I could never fit it in. It is not hard to understand why with places like the Everglades, Big Cypress, and Fakahatchee Strand in the general vicinity. I had a few free days before an Okefenokee Swamp Adventure, so I knew where I had to go.
Related: Exploring Fakahatchee Strand State Preserve
Arrival
I only had one full day to explore, so I made sure to get there early. Many of the campers who had filled the campsite the night before on a Saturday were still there, so I was afraid they would tell me to come back later. Instead, they were quite accommodating. They told me to drive around the campsite loop and make note of empty places that I was interested in staying at. I drove the loop and circled about ten campsites. They had to make sure the empty spots were not already booked for the upcoming night. I returned, and a free spot was found. I paid the fee, and I returned to my home for the night to set up camp.
Canoeing Blue Springs and the St. Johns River
As soon as the tent was up, I headed to the river. I rented a canoe and paddled up and down the springs and then out into the river. The actual springs is about a quarter of a mile up from the St. Johns River. There is like a mini river created by the water from the springs that empties into the St. Johns. At the confluence of the springs and the river is where the boat landing is at. Besides a canoe rental, there is also a touring boat that you can enjoy.
It was an unbelievably gorgeous day. It was hot, but not humid with a slight breeze. One of those days that just makes you happy to be outside. I paddled up the St. Johns for about a mile to a marshy area that I explored. Little blue herons, snowy egrets, and white ibis were hidden away and bolted out of their hiding place as my canoe interrupted their afternoon. A few remained and allowed photographs.
Wildlife
The best wildlife viewing was in the springs. An eight foot alligator monitored traffic into the springs from a log on the opposite shoreline. Since he was ensconced on the log, they did not close the springs for swimmers, but I think they do close them if an alligator enters the springs area. Turtles also joined the alligator on an adjacent log for an equally lazy afternoon. Since the springs were crystal clear, it provided great views of the life underwater including fish and. . . . .
Manatees
The main star of the springs are the manatees They swim up the St. Johns River from the ocean to enjoy the year round warmth of the springs. I was fortunate enough to see a group of manatees in the springs area while canoeing. It is not a given to see manatees this time of the year because they are more apt to enjoy the warmth of the springs when the ocean is a little cooler. The best time of the year to come to Florida to see manatees in the springs is December, January, and February.
Related: Canoeing with manatees on the Crystal River
Afternoon run
After turning in my canoe rental, I returned to the campground and went for a run. There is a bike path on the other side of the road. I am not sure how far this goes, but I was able to run for two miles on it before I turned around and completed my four mile run. Afterwards, I was sopping wet. I could have taken a shower, but with a beautiful clear springs to swim in, I delayed my shower and drove back to the spring.
Blue Springs State Park swim
The water took some getting used to as it is in the low 70s, but when I jumped in I felt so refreshed. I did not swim far from the deck where swimmers can enter the water. I was not so much scared of alligators, but I just wanted to cool down. A swimmer was killed last year by a ten foot alligator, so caution is required. If you are scared of swimming in waters where alligators live, then just jump off the deck and return. Since the water is so clear, there is not much danger of a man eating alligator sneaking all the way up the springs river to grab people near the deck.
Blue Springs State Park sunset
I returned to my car and got my camp chair and headed back over to the now closed canoe landing. I situated my chair to look west and enjoyed a gorgeous sunset over the St. Johns River. I sat back and watched the sunset and reflected on my almost perfect day. The day featured canoeing, manatees, egrets, herons, alligators, a pleasant run, a wonderful swim punctuated by a sublime sunset that colored my world with hope. I was feeling far from blue thanks to wonderful adventure opportunities found at this amazing Florida state park. Check out their website for more information.
Adventure on!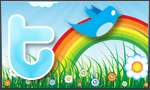 The goal of this site is to inspire people to outdoor adventure travel and then provide tips. If you liked this post then sign up for the email newsletter. Notifications go out once or twice a month with what is new with Traveling Ted's adventures. Your email will not be share and you will receive no spam. Other e-follow options include Facebook (click on the like box to the right) or twitter (click on the pretty bird on the rainbow above)