One must visit place in Bogota is the top of Monserrate. You can either climb, take a tramway, or take the Monserrate funicular. Normally I would climb this, but the wonderful family I was staying with wanted me to experience the funicular. For those afraid of heights, this mode of transportation is not for the feint of heart.
Monserrate funicular a little scary for those afraid of heights
I used to be afraid of heights, but I have been able to overcome this as I have grown older, especially if I have control over falling. I am pretty sure footed and handed, so I will not put myself in a position where I am in danger of falling. As with flying, I think people are more afraid of being helpless and not in control than they are the actual height.
I have to say that the ride up Monserrate was a little terrifying thanks to the incline of the ascent and descent. It seemed like it was almost an 80% incline or almost straight up, and we were pulled in a little cable car only supported by a cable. Perhaps it had some back up safety feature in case something happened to the cable, but I am not sure. All I know is that I was happy once my feet hit the ground both coming up and going down. You can save a little money by walking up the mountain instead of taking the funicular. Visit this website for more saving tips.
The ride up and down only takes about five minutes. The view is sensational from up top as Monserrate is higher than 10,000 feet. I had no idea there were 10,000 foot mountains in the capital city. Bogota is already high at around 8,300 feet or 2,640 meters. Not many travelers expect such elevation in Colombia which is known for Caribbean beaches and steamy jungles. Bogota is actually higher than Denver, the famous mile high city in Colorado.
Cool temperatures prevail on Monserrate
If you are traveling to Bogota make sure you bring warm clothes including long pants and a semi warm jacket. I hear of people freezing their behind all the time thinking that all of Colombia is warm. The average temperature in the city is 58 degrees, and it is even colder a couple of thousand feet higher on top of Monserrate, so plan accordingly.
We were lucky because as soon as we got to the top of Monserrate, a huge cloud came through and made visibility pretty poor. I was able to get a good couple of shots of the surrounding scenery before we were fogged out, but the city itself was already cloud enshrouded.
Monserrate is one of the major tourist areas in the city, so you get the usual shops and over priced food stops. I did not feel that anyone bothered me though, so at least it was peaceful. There is also a church at the very top. The church was a brilliant white and looked pretty cool surrounded by the enveloping clouds. We briskly walked through the tourist area, but it was not all that interesting.
What was interesting was how lush the environment was. The trees on the surrounding mountains and the landscape below the buildings was a radiant green. Bogota receives a decent amount of rainfall, so make sure you also pack some type of rain gear as well as the warm clothes. There were also many flowering plants in bloom along the walkways.
The main thing to do up there is enjoy the views, and once the cloud came in and obscured it, there was not much point to hang out, so we jumped back on the Monserrate funicular and came back to ground level. I would definitely go back, but I would try and do this on a more clear day if possible, which is not easy to plan as I do not think I experience a clear day in Bogota.
Some people might be turned off by the overly touristy aspect of the top of Monserrate, but the view of the mountains and the city make it well worth the stop. For more information on rates and schedules for the various ways to get up the mountain, check out this website.
Adventure on!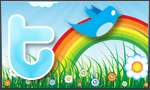 The goal of Traveling Ted is to inspire people to outdoor adventure travel and then provide tips on where and how to go. If you liked this post then enter your email in the box to get email notifications for each new entry. Daily travel photos are excluded from your email in order to not flood you with posts. There is no spam and email information will not be shared. Other e-follow options include Facebook (click on the like box to the right) or twitter (click on the pretty bird on the rainbow above).