When I left home for the 45 minute drive to Blackwell Forest Preserve, I hardly thought I was leaving for an adventure. The forest preserve is in suburban Warrenville, Illinois. It is only a half hour from Chicago and smack dab in the middle of a highly concentrated population.
Snow finally covers Illinois
Thanks to a snowstorm that dropped over 15 inches on the Chicago area during the Super Bowl weekend, there was finally snow in the area. Prior to this the closest location with skiable snow was way up in Wausau, Wisconsin.
I arrived at Blackwell Forest Preserve at 3:30 p.m. I figured I could ski for two hours and get a good workout in. I checked the sunset time, and if my memory serves me correct, it was to take place at 5:00. The park officially closes at one hour after the sun goes down.
Blackwell Forest Preserve cross-country skiing under  a brilliant sunset
The trail started out in a hardwood forest and then crossed a stream before heading out into an open field. The sun was already nearing the horizon with some beautiful colors already forming. I took a few pictures. I then skied to the other end of the field, and there was a road crossing. I took my skis off and walked across the somewhat busy road.
The trail was nothing exciting skiing wise. I did not find any steep hills and the groomed trails were pretty chewed up from people walking, running, and dog walking on the trail; however, I was glad to find any skiing trail with snow only 45 minutes from home. I was glad I did not have to set aside a three day trip just to travel and find snow in northern Wisconsin.
I then skied to a trail junction, and I could either go left or right. I took the trail to the right. I assumed this would be a loop that would take me back to this location and then I could ski back to my car or perhaps do another loop if I had time.
I once again emerged out of the forest into a large open space. The trail circled around a large field with houses and woods to my right. The sunset was now in full swing and was turning out to be a brilliant one. I paused to take many pictures and just take in the colors. I was spending more time gawking at the sunset than I was skiing.
Just when I finally decided to start skiing again, two red-tailed hawks soared at low level right in front of me over the trail. They perched in a tree, and their silhouette was perfectly framed by the sunset, which was on fire. Thanks a lot hawks as now I was going to have to take more pictures.
They eventually flew away, and I was back to skiing again. It was now starting to get dark. I had my flashlight with me, so I was not too worried. Plus, it is rather easy to see in the forest at night with snow on the ground.
Rush to exit the preserve before it closed
A few trails veered off to my left. I was not sure which one would take me back to the the junction I passed after I crossed the road. I figured I should keep on the main trail and continue straight. Eventually, I ended up in a parking lot along what I assumed was the same road that I crossed earlier. There was a map at the trailhead, but there was no "you are here red spot."
It seems like every park I have ever been in has some kind of indication of where you are on the map. There was none here, and I kind of needed it as time was becoming a factor, and I was not exactly sure where I was. Not that I was worried for my safety as remember, I was in suburban Illinois. I was worried about getting locked in or a receiving a fine for being late to leave.
I studied the map to try and figure out where I was. I had to figure out where I was. I did not have enough time to just go  and ski until I found my way out because a wrong turn could lead to getting locked in. I then had an idea. I took my iPhone out and opened up my Google maps app. A blue dot signified where I was on the map. I looked at the map in the parking lot and I discovered I was just a little bit down the road from where I crossed initially.
I walked about a half mile along the road and found the place where I crossed the road the first time. I skied back through the field, over the stream, and back into the woods. A faint light in the distance marked the buildings in the parking lot. There was my car, the only one in the parking lot. I put my skis in and took off. I felt like I was safely out by the one hour after sunset, but I could not be sure until I exited the park and passed the gates. I got to the entrance, and thankfully, the gates were open.
It was a nice ski with a beautiful sunset, red-tailed hawks, and a thrill getting out of the forest preserve at the end. Next time I come to Blackwell Forest Preserve, I will make sure I get on the trail a little earlier.
Adventure on!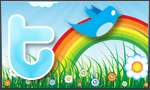 The goal of Traveling Ted is to inspire people to outdoor adventure travel and then provide tips on where and how to go. If you liked this post then enter your email in the box to get email notifications for each new entry. Daily travel photos are excluded from your email in order to not flood you with posts. There is no spam and email information will not be shared. Other e-follow options include Facebook (click on the like box to the right) or twitter (click on the pretty bird on the rainbow above).
On the right sidebar is a donate button. If you would like to donate in order to support the site, it would be appreciated. All donations would cover travel expenses and improvements to make the site better.