Flipkey Virtual tour and travel blogger contest
Flipkey is the top vacation rental site named by Travel & Leisure and they have stepped up their game once again with new virtual tours of three top-notch destinations on their website. Instead of a bland description of Miami Beach with a few shots of the beach, Flipkey now has virtual tours with stunning 360 degree panoramic views using parallax technology. I am not sure exactly what parallax technology is, but it looks pretty flipping cool.
Flipkey rolled out the technology and the tours in their hometown of Boston, but they are now unleashing the virtual tours in three new cities. In honor of this expansion, they are hosting a travel blogger contest called "Take Me There." The three new cities are Miami Beach, Phoenix, and Lake Tahoe.
For the contest, each blogger must pick one of the three cities and write about what they would do while they were staying in the city of their choice. My pick would be Miami Beach, but not for the reasons you might think. Miami Beach is a hip and trendy hotspot, but I am anything but hip and trendy. Proof of this is the fact I proudly wear a fanny pack on all my travels. This travel faux pas would certainly not fit in at the clubs or beaches in South Beach, but it would fit in perfectly nearby.
Miami Beach is the gateway to the Florida Everglades
I recently flew back from Costa Rica and on the way home we flew over south Florida. I started to salivate looking at all the water and trees in the Everglades before gliding into civilization in Fort Lauderdale. Miami Beach is the gateway to the Everglades and the Florida Keys, and I would love to use a Flipkey rental as a springboard to adventures in the swamps and jungles further south.
Although I am an outdoor blogger, I do need a place to stay before and after my trip. If I were to stay in Miami Beach, I might even be coaxed into exploring some of the sights illustrated in parallax technology. Wouldn't it be funny if me and my fanny pack somehow got caught in this technology on South Beach or at Marlins Park? I can just see a host of Flipkey viewers laughing at the goofball with the fanny pack.
A Miami Beach Flipkey location could also be used as a base for day trips into the swamps. It is feasible to drive into the Everglades, and see alligators, birds, and snakes and then drive back to luxury later that day.
One of my favorite adventures I did when I was in the Everglades is walk the 11 mile paved road around Shark Valley in the Everglades. It is only 42 miles from South Beach to Shark Valley, so this adventure could easily be done in one day. Other interesting spots in the Everglades are not that far away as well. The Anhinga Trail is only a little farther than an hour and Flamingo on the coast of the Florida Bay is only two hours. Collier-Seminole State Park is also less than two hours away as is the Big Cypress National Preserve.
All of these beautiful places mentioned have alligators and incredible bird life as well as hiking and canoeing and kayaking possibilities. Although you will see no alligators or snakes in parallax technology on the Miami Beach virtual tour, they are out there and if you crave adventure, it is easy to get to from a Miami Flipkey location.
Miami Beach virtual tour
If you are staying in Miami though, it only makes sense to check out the attractions that are highlighted on the Miami Beach virtual tour. South Beach does look stunning and a great place to relax after hiking in the swamps of southern Florida and a good place to hide from the mosquitoes, snakes, and spiders. If you prefer not to leave the city and like the outdoors, the virtual tour does provide options with the Botanical Gardens and South Pointe Park. If you like birds, Botanical Gardens are a great spot to find them even in the city especially in a bird rich environment like south Florida.
Once you are sold on a Miami Beach virtual tour, the next step is easy. You can click on "find a rental" at the bottom and you are directed to Flipkey's search page for vacation rentals. In minutes you could have your sunny Florida vacation locked up. Don't forget your fanny pack.
If you do find yourself in Miami and you are looking for some close outdoor adventure, check out these posts:
Anhinga Trail is a Florida zoo
Collier-Seminole Adventure Trail
Fakahatchee Strand State Preserve
Adventure on!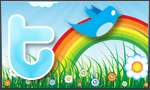 The goal of Traveling Ted is to inspire people to outdoor adventure travel and then provide tips on where and how to go. If you liked this post then enter your email in the box to get email notifications for each new entry. Daily travel photos are excluded from your email in order to not flood you with posts. There is no spam and email information will not be shared. Other e-follow options include Facebook (click on the like box to the right) or twitter (click on the pretty bird on the rainbow above).
On the right sidebar is a donate button. If you would like to donate in order to support the site, it would be appreciated. All donations would cover travel expenses and improvements to make the site better.