Arriving in the Great Smoky Mountains
The Great Smoky Mountains is one of the most visited national parks for a reason. One of them is the ease of visiting this beautiful park by car. Some people prefer their adventure by automobile. The scenic route highlight is the Cades Cove Great Smoky Mountains scenic loop.
I was planning a three day backcountry hike. I arrived in Sevierville at 3 a.m. I camped outside of Shoney's waiting for the breakfast bar to open. After carbing up for my hike, I visited a couple of waterfalls before heading to Cades Cove.
I was planning only a 7 mile hike the first day, so I was in no hurry to get started. I found a place in the picnic area in Cades Cove and packed up my gear. I decided to take a loop around the 11 mile Cades Cove Great Smoky Mountain Scenic loop before heading for the trail.
Only problem was it was the 4th of July and the park was crazy crowded. They do not open the gates to the loop until 10 a.m. This is why I decided to get my gear in order first.
A Cades Cove Great Smoky Mountains adventure
I head out for the loop under beautiful sunny skies. I stopped right away and took several pictures of the cove surrounded by the amazing mountains. There was a ton of traffic. One does not expect to be in a traffic jam in the mountains, but it was a holiday and this is one of the most popular parks.
At one point I was stopped in a section of forest. I looked towards the woods and saw some movement, and it was a pretty decent sized black bear. I tried to zoom in on him, but he rumbled into the forest before I could get a picture.
When I emerged from the woods I hit more traffic. Usually you can tell the type of animal that is showing itself by the length of the delay. Sure enough, there was a bear in the field making his way up to the road. By the time I got to where he was, he had crossed the road and hit the woods.
Checking out a black bear in a tree
I drove on and hit another patch of traffic. Yet again, it was another black bear. This one was high up in a tree. People and cars lined the road while photographers with every type of camera jockeyed for position for a shot of the bear. Rangers were on hand to make sure people did not approach the bear and also make sure cars kept moving.
I parked at the end of a line of cars and walked back to where the crowd was and joined the Smoky the Bear paparazzi. I got a few shots before he came back to the ground and moved away.
After seeing three bears and getting some good scenery shots, I was ready to start my hike. I had about 5 miles to go. The loop is only one-way and one lane, so when it is crowded, it can be pretty tough to move. The speed limit was 20 mph, but we were going 10.
Road rage in the Great Smoky Mountains
There are multiple signs that request slow drivers to use the abundant turn offs, but some inconsiderate slow pokes think everyone wants to go their speed and just putt along. It took an hour to do the last 5 miles, and I was furious at the rude driver in front. I imagine there has been a few confrontations here to make them put up the numerous signs. You do not expect to get road rage in the mountains.
When I finally got past the pokey driver, I noticed he was from Alabama from his license plate. It figures. (Please note, I went to school at the University of Tennessee).
Cades Cove tips:
Ride a bike around the 11 mile loop before the cars are allowed to go on the loop. This is an amazing way to experience the loop
Be considerate to other drivers and pull off if you see a line forming behind you. Don't worry, they won't scare all the bears away
Do the Abrams Falls 5 mile hike
Get out of the car and wander around a bit.
Never go on a holiday weekend in the summer – Go on a weekday if possible
Adventure on!
TT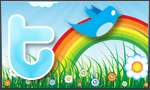 The goal of Traveling Ted is to inspire people to outdoor adventure travel and then provide tips on where and how to go. If you liked this post then enter your email in the box to get email notifications for each new entry. Daily travel photos are excluded from your email in order to not flood you with posts. There is no spam and email information will not be shared. Other e-follow options include Facebook (click on the like box to the right) or twitter (click on the pretty bird on the rainbow above).
On the right sidebar is a donate button. If you would like to donate in order to support the site, it would be appreciated. All donations would cover travel expenses and improvements to make the site better.