Great Smoky Mountain trail signs
The Great Smoky Mountains have a wonderful backcountry trail system. The park is most noted for the Appalachian Trail (AT), but there are hundreds of miles of trails interconnecting with the AT and beyond in the park. Most of the trails are usually incredibly well marked with accurate mile markers to the next trail junction or campground.
Here is a photo essay of the trail signs that I passed along the route as a way of detailing my latest hiking adventure in this wonderful park. I have also thrown in a few pictures of the journey to make the photo essay a little more interesting.
Anthony Creek Trail – 1.6 miles
I parked in the Cades Cove Campground store parking lot and headed to the picnic area to pick up this trailhead. There is no overnight parking in the picnic area, so you have to park in the campground, which adds another .5 miles to your hike. This trail gradually goes uphill following Anthony Creek through rhododendron forest to the junction with the Russell Field Trail.
Anthony Creek Trail – 1.9 miles to Bote Mountain trail – total 3.5 miles
At the junction with the  Russell Field Trail, there are two options for climbing up to the Appalachian Trail. Either the Russell Field Trail or the Bote Mountain Trail.  I was staying at Russell Field, but I wanted to see Spence Field and hike a little longer, so I continued on Anthony Creek to the Bote Mountain Trail.  I could not stay at the Spence Field shelter as it was closed due to bear activity.
Bote Mountain Trail – 1.7 miles – total 5.2 miles
This trail takes you to Spence Field on the AT. Every trail that summits to the AT in the Smokies is a son of a bitch, and Bote Mountain is no different. It went up and up and up till I was sweating, cursing, and wishing I was anywhere else than here.  Soon I saw blue sky at the horizon of the trail as if I was heading towards the end of the world to find a sign for the Appalachian Trail. Despite the difficulties, it is a great feeling to finally summit and make it on America's most iconic trail.
Appalachian Trail – Spence Field to Russell Field – 3.1 miles – 8.3 total
I was hiking the AT from north to south here and this stretch was almost all downhill. For thru hikers heading to Maine, this would mean this trail is all up. Spence Field is approximately 5,070 while Russell Field is around 4,700 feet. Spence Field shelter is currently closed due to an aggressive bear, so I stayed at Russell Field.
Day 2 – Appalachian Trail – Russell Field to Mollie's Ridge – 3.3 miles (sign incorrectly states 2.5) trip total 11.6
The section from Russell Field to Mollie's Ridge is a gradual up and down. You climb a few knobs (small little peaks on the ridge) and then you descend down. The sign at Russell Field shows 2.5 miles to Mollie's Ridge shelter, but when you get to Mollie's Ridge the sign there says 3.3 miles to Russell Field. I believe the latter sign as it was farther than 2.5 miles. The signs are not always 100% accurate.
Day 2 – Appalachian Trail  – Mollie's Ridge to Gregory Bald 3.1 miles – Day total 6.4 – Trip total – 14.7
More of the same along the Appalachian Trail to Gregory Bald Trail. There are no views off the Appalachian Trail during this stretch. The trail is sometimes called the long green tunnel due to its lack of views and abundance of trees that grow at the top of the AT ridge.
Gregory Bald Trail to Gregory Ridge Trail – 2.0 miles – Day 2 total 8.4 – Trip total 16.7
I left the AT for the Gregory Bald Trail. I was heading for my next reservation, which was campground 14 along the Hannah Mountain Trail.
Gregory Ridge Trail to Forge Creek Road – 4.9 miles – Day 2 total 13.3 – Trip total 21.6
Unfortunately, Gregory Bald Trail was closed due to aggressive bear activity, so I had to walk down to a road and take a road to outflank the closed trail and the bear. This was listed on the national park website, but I failed to notice that my hike would be impacted by the closure. I saw the Gregory Bald campground was closed, but I did not see the trail was likewise closed. A good tip is to carefully read these warning as this inconvenience lead to a 20 mile hike instead of an already exhausting 16 mile hike. I did not get into the campsite until 7 p.m.
Parsons Branch Road to Hannah Mountain Trail  – 3.0 miles Day 2 total 16.3 – Trip total 24.6
I reached the parking lot for the Parsons Branch road and soaked my sore feet in the mountain stream and then headed up the road for three miles. It was nice walking on soft gravel, but I would prefer working on a trail through the woods. The road was more up than down, but the incline was not too torturous.
Hannah Mountain Trail to Rabbit Creek – 7.6 miles – Day 2 total 20.3 (stopped at campground 14) – Trip total 32.2
I had about four more miles to my camp. A 20 mile day is something many thru hikers take weeks to acclimate to, but here I was doing it on my second day of a short three day hike. My body was numb except for my shoulders and feet that unfortunately always felt sore and never numb. On the bright side, once I came off the AT, I mainly was hiking downhill or on level ridge trails.
Rabbit Mountain Trail to Abrams Falls Trail – 1.9 miles – Day 3 total 5.5 – Trip total 34.1
Sometimes the signs do not put on what is important to you. I was hiking on the Rabbit Mountain Trail to Abram's Creek, but this sign did not find the Abrams Falls  Trail junction worthy enough to put on the sign. The Hatcher Mountain Trail went the opposite direction at about the same point as the Abrams Falls  trail, so I knew which was to go after consulting the map.
Abrams Falls Trail to Cades Cove-4.2 miles – Day 3 total – 9.7 – Trip total 38.3
In the backcountry ever since leaving the AT for the Gregory Ridge Trail I had not seen anyone except for cars along the Parsons Branch Road. All of a sudden, I came upon the masses on a pilgrimage to Abrams Falls from Cades Cove. It is a beautiful waterfall, and I cannot blame them. I took a dip in the cool pool below the falls that felt heavenly.
Abrams Falls parking area to Cades Cove Campground  – 2 miles until picked up – Day 3 total 11.7 – Trip total 40.3
My car was parked at the Cades Cove Campground, which was 7 miles away from where I emerged at Abrams Falls. I figured it would be a nice hike through Cades Cove. There is not a convenient loop for this section of the AT from Cades Cove. After a 20 mile day and then another 10 this morning, I was ready for the trip to end. Perhaps I was inspired by Expert Vagabond's hitchhiking adventure across the U.S. If he could hitchhike the whole country, I sure could get a ride for 7 miles back to my car.
I hiked up the Cades Cove scenic loop road  and stuck out my thumb until I heard the magical words "do you need a ride?" I turned to see a beautiful white pickup truck. I jumped in the back and thoroughly enjoyed motoring in style as the wind cooled my hot body down. I looked at the beautiful mountains that I just came down from and looked forward to exploring them again.
Adventure on!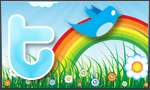 The goal of Traveling Ted is to inspire people to outdoor adventure travel and then provide tips on where and how to go. If you liked this post then enter your email in the box to get email notifications for each new entry. Daily travel photos are excluded from your email in order to not flood you with posts. There is no spam and email information will not be shared. Other e-follow options include Facebook (click on the like box to the right) or twitter (click on the pretty bird on the rainbow above). On the right sidebar is a donate button. If you would like to donate in order to support the site, it would be appreciated. All donations would cover travel expenses and improvements to make the site better.