Twice in one day I was tagged by two awesome travel bloggers for the Travel Supermarket.com capture the color contest. A big thank you goes out to Leigh, from Hike Bike Travel, and Leah, from Leah's travels for the nominations.
Being from Chicago, when I first heard the capture the color contest, I immediately thought of the band that named itself after our city. On Chicago II, their second album, they came out with the beautiful Color My World, which has been a standard piano tune that every aspiring grade school piano player cranks out at one time in their life.
I owe Leah a song and travel post, so this video will serve to appease that commitment for the time being. For now it is colors.
The contest makes bloggers pare one photograph with each of the five following colors: blue, green, yellow, white, and red. I was a little distraught to find pink was not among them as I have many choice pink ones, but those pictures will have to wait for another time and another post.
BLUE
There is nothing quite like the shade of blue found in Quetico Provincial Park in Ontario, Canada when the sun is beating down on the crystalline waters that make up the many pristine lakes in this wilderness. The closest color I can think of is cobalt blue. When the sun is out and you have a good vantage point of one of the lakes, you just want to dive in and start drinking the water up as the views are that appealing.
GREEN
Having been to many green places in my life this was a tough one. Should I choose the tree covered Great Smoky Mountains National Park or perhaps Corcovado National Park in Costa Rica? They would have made good choices, but this one is easy. I have never seen a shade of green match the verdant green found at the Batad Rice Terraces in the Philippines.
Yellow
Recently in Puebla, Mexico, I was amazed to find such a beautiful city in inland Mexico. Weren't all the places worthwhile to see found along the coast in Mexico? Puebla showed me this was not true. The colonial city reminded me of an old European city with cobblestone streets, old churches, and colorful buildings.
White
Another color I had a struggle with. Being an avid skier, I have many pictures covered in white. Snow makes everything prettier. Should I have chosen ski trails in Illinois, Minnesota, or maybe wintry peaks in the Wasatch Mountains in Utah? In the end, I choose a cross-country ski trail at the Palmquist Farm in Wisconsin with snow covered pines as daylight begins to fade.
Red
Since I began this post with a shout out to my hometown, I will end it with one to my home state. The state bird of Illinois is the cardinal. I captured this beautiful red-crested bird singing a little song at Montrose Harbor in Chicago. Perhaps he was tweeting Chicago's "Color my world."
Five more travel bloggers to tag:
The Downtown Traveler
Stay tuned,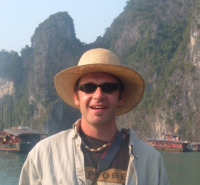 TT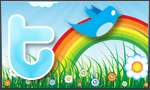 The goal of Traveling Ted TV is to inspire people to outdoor adventure travel and then provide tips on where and how to go. If you liked this post then enter your email in the box to get email notifications for each new entry. Daily travel photos are excluded from your email in order to not flood you with posts. There is no spam and email information will not be shared. Other e-follow options include Facebook (click on the like box to the right) or twitter (click on the pretty bird on the rainbow above).
[subscribe2]