When you are hiking in the Wisconsin northwoods on the Ice Age Trail, or any trail in this gorgeous state,  you will not have to walk far to see a beautiful stream, pond, lake, or view. The Timm's Hill National Trail is no exception.
The Timm's Hill National Trail is actually not on the Ice Age Trail. It is a ten mile trail that links the Ice Age Trail in Taylor and Price County just north of the town of Rib Lake, with Wisconsin's highest point: Timm's Hill.
To walk this trail, you can park in the Rib Lake Trails off of County C. Click on this map for directions. The trailhead is just north of Rib Lake. It is only a short jaunt into the woods to the trailhead for the Timm's Hill Trail. It is then a ten mile hike to Timm's Hill. This would be a great hardcore day hike back and forth to Wisconsin's highest point.
For those who do not want to walk twenty miles in one day, there are other options. You can drive to Timm's Hill and hike 300 yards to the tower, but that is a post for another day.
On my way back from Nekoosa's Walleye Days, I decided I wanted to do some hiking before I returned home. Wanting a little more than a 300 yard hike to the tower, and a little less than a 20 mile hike back and forth along Timm's Hill, I settle for a two mile hike up to Ritchie Lake and back.
Wisconsin northwood lakes are gorgeous, but many of them are cluttered with summer homes, motor boats, and other recreational activities. It is great to find one surrounded by pines with nary a home and person to be found. Ritchie Lake is that kind of lake along the Timm's Hill Trail.
The trail is well maintained with a wide swath cleared in the forest.  There are red markers and arrows that help keep the hiker on the right trail.
Being near the Ice Age Trail, the section is glaciated, so it means plenty of ups and downs. This does not mean it is overly difficult though as there are some flat sections as well. In fact, the first two miles to Ritchie Lake are the flattest section on the trail, so this day hike would be ideal for families. The trail becomes progressively hillier as it reaches Timm's Hill at 1,951 feet.
The trail at Ritchie Lake has a bench to sit and rest and enjoy the lake. There is also a clearing, so you can walk up to the lake and take pictures.
The trail is open to horses from May 1st to November 15. It is open year round to hikers, bikers, and in the winter, skiers. The trail is groomed for both classic and skate cross-country skiing.
Next week we will progress to the top of Timm's Hill!
TT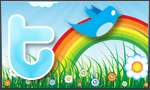 The goal of Traveling Ted is to inspire people to outdoor adventure travel and then provide tips on where and how to go. If you liked this post then enter your email in the box to get email notifications for each new entry. Daily travel photos are excluded from your email in order to not flood you with posts. There is no spam and email information will not be shared. Other e-follow options include Facebook (click on the like box to the right) or twitter (click on the pretty bird on the rainbow above).
On the right sidebar is a donate button. If you would like to donate in order to support the site, it would be appreciated. All donations would cover travel expenses and improvements to make the site better.