April has sometimes been referred to as the cruelest month. For the outdoors enthusiast, it can be a difficult month highlighted by the fact that you will enjoy beautiful days with highs in the 70s one day and then 40 degrees and raining the next.  Then you add the proclivity for heavy rain into the picture and it can be a frustrating 30 days. It is a month characterized by being in between.
Fortunately, with the rain comes two silver linings. Not only does the rain bring May flowers, but it also brings great whitewater. The best whitewater rafting and canoeing can be enjoyed during April as snow melt combined with heavy rains brings peak conditions for Wisconsin adventurers.
Whitewater canoeing and kayaking is not for everyone. It takes a certain adrenaline junky to enjoy the sport, not to mention a lot of skill in reading the water and being able to move the craft in fast water. Whitewater rafting; on the other hand, with the proper guide, can be enjoyed by all and there are some great places in Wisconsin to enjoy this fast paced thrill.
Wildman Ranch on the Peshtigo River in Crivitz, Wisconsin is the perfect place to get outdoors during April and have a great whitewater experience. They are located right along Horserace Rapids, in one of the most thrilling couple of miles of whitewater the state of Wisconsin has to offer.  This year, they are also adding zipline tours for those who want more excitement. Check them out on Facebook.
Even though whitewater rafting is a much safer activity than kayaking or canoeing, the thrill of crashing through gnarly rapids getting soaked is still beyond some people's comfort level. Not to worry, there are still amazing activities found in April which will please even the most laid back outdoorsmen.
With swelled rivers in April, the month is a perfect opportunity to view a Wisconsin waterfall. Two state parks in northern Wisconsin are the best for checking out amazing waterfalls. Pattison State Park and Amnicon Falls State Park have some awesome waterfalls that are easily viewable from short walks from the road. The video below shows Wisconsin's tallest waterfall in Pattison State Park: Big Manitou Falls. Click here to see a list of Wisconsin's ten highest waterfalls.
These parks are most often visited in the summertime. The parks are beautiful and worth a visit then too, but spring is the time to check these two parks out. In summer, with low water, the waterfalls can sometimes resemble a trickle and can be a disappointment. In March and April when the rain amount is usually high, they become world class waterfalls as beautiful as any cascade in the country and the world.
Another easy waterfall to check out in Wisconsin is Cascade Falls in Osceola. This waterfall can be found from parking along the main drag in town and then descending a set of stairs to the river and the falls.
There are other waterfalls in Wisconsin. Please leave a comment and share your favorite waterfall in the state.
TT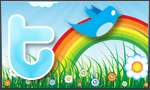 The goal of Traveling Ted is to inspire people to outdoor adventure travel and then provide tips on where and how to go. If you liked this post then enter your email in the box to get email notifications for each new entry. Daily travel photos are excluded from your email in order to not flood you with posts. There is no spam and email information will not be shared. Other e-follow options include Facebook (click on the like box to the right) or twitter (click on the pretty bird on the rainbow above).
On the right sidebar is a donate button. If you would like to donate in order to support the site, it would be appreciated. All donations would cover travel expenses and improvements to make the site better.