Trinidad & Tobago's number one tourist draw is their version of the Carnival celebration. It is widely considered that Brazil has the number one party, but when it comes to Caribbean Carnivals, Triniad & Tobago is tops on most lists. However, there is more to Trinidad & Tobago than Carnival. Today's guest post is by Dawn Smith, who has suggested some alternative places in the main island of Trinidad, which I plan on visiting once I recover from three days of celebrations.
Can't join Traveling Ted on his latest adventure? No problem. No matter when you go to Trinidad you'll be treated to some spectacular wildlife if you get away from the cities and the tourist beaches. In fact just steps away from the Carnival celebrations there's a parrot party every night.  As sun sets hundreds of parrots return to the botanical gardens next to the Emperor Valley Zoo, creating a beautiful (and noisy) display.
EarthXplorer has already introduced you to Caroni Swamp and the amazing ibis show but here are a couple of other places not to miss.
On top of an unspoiled mountain, wisely protected by conservation minded people years ago, the Asa Wright Nature Center is famous for its many species of hummingbird, most of whom can be seen coming to the feeders while you relax on the deck with a cold drink. But it's worth the effort to step off that comfortable deck and walk the trails to find other birds, butterflies, reptiles and exotic plant life. This is your next chance to see parrots in the wild and, if you're lucky, a toucan or two.
If you can, spend the night, enjoy some good food and drink and have the chance to see the birds coming and going at sunrise and sunset. The local guides on duty will help you get the most out of your experience.
The Temple in the Sea
This Hindu temple isn't that easy to find but it's worth the effort if a bit of history with a side of birdwatching is your idea of fun. The story of the efforts of one man to build this temple, click here, will make you want to visit even if you're not interested in birds. If you are a birder, check out the mudflats to the right where scarlet ibis and other wading birds feed during the day.
For a chance to see some of Trinidad's most interesting mammals try Nariva Swamp. Red howler and Capuchin monkeys, anteaters and tree porcupines inhabit Bush Bush Island in this protected wetland and the endangered West Indian Manatee makes its home in the waters.
So even if you miss the brightly hued humans at Carnival, you can have your fill of colorful birds and unusual mammals any time of the year in Trinidad.
Thanks so much Dawn for contributing and for the great tips for visitors to this site and for me. I plan to follow these recommendations and look forward to reporting back. To read more from Dawn Smith, check her out at Suite 101 and follow her here on twitter.
Stay tuned,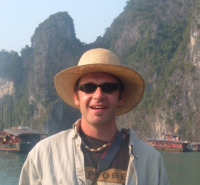 TT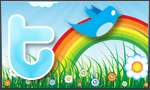 The goal of Traveling Ted is to inspire people to outdoor adventure travel and then provide tips on where and how to go. If you liked this post then enter your email in the box to get email notifications for each new entry. Daily travel photos are excluded from your email in order to not flood you with posts. There is no spam and email information will not be shared. Other e-follow options include Facebook (click on the like box to the right) or twitter (click on the pretty bird on the rainbow above).