Angkor Wat in Cambodia is noted as the world's largest single religious monument. This is just the main temple. Over a 1,000 other temples are scattered around the Angkor Wat complex near Siem Reap including the Phnom Bakheng Temple. One normally equates peace, whether of the inner variety or the lack of loud sound, when thinking about temples and religion. Therefore, it would seem that Angkor Wat would be a place where travelers might find tranquility.
This was not the case. From the moment I parked my bike at the main Angkor Wat complex I was bombarded with loud obnoxious children hawking postcards, drinks, and other odds and ends. Peddlers combined with the shear mass of tourists made the initial impression of this famous pre-industrial city of ruins far from pleasing.
These initial feelings quickly dissipated when exploring the main temple. The temple is truly amazing and the aura this place emanated was just as incredible. For an hour I was lost looking at intricate designs chiseled in stone from workers with crude implements plying their trade over 9 centuries ago.
I floated out of the main temple completely enchanted with the place. Then I was marauded by the child postcard force. "Mistah you buy something," cried a desperate army of kids trying to earn a riel or a thousand.
I did my best to dodge them jumping on my bike and peddling away from the peddlers with loud cries of "water" or "postcahd" still ringing in my ears. The next stop was the mountain top temple called Phnom Bakheng. The same scenario replayed as another mob of child vendors welcomed my arrival. They patiently awaited while I locked up my bike, but as soon as I was done the cries started again. When I demurred, they yelled "Maybe later?"
When you do succumb and buy something it only makes matters worse. The other unlucky ones think they see a sucker and sink their nails and teeth into you. You tell them you do not need more than 10 postcards nor do you need ten coca colas, but it is useless. You just have to press on.
I was getting frustrated with the hassle, and the fact it was over a hundred degrees in the shade, and I was riding a bike with an acute hangover did not help matters. I had a ringing headache, and I just wanted a little peace and quiet.
I climbed the steep steps of Phnom Bakheng, and I was treated to a majestic view of the main Angkor Wat temple, other nearby ruins, and the surrounding jungle; moreover, there was hardly anyone here. I soon learned that this temple was a favorite for spectators to come at sunset. Hordes arrived here at dusk in order to get a chance at framing the iconic Angkor Wat in the setting sun. I definitely suggest visitor's come here during the day too in order to check this temple out sans tourist mob.
A gentle cool breeze gave temporary relief to the sweltering heat. On the other side of this temple lay the jungle, so birds could be heard in the trees and an energetic group of swallows zipped past our ears. They made this interesting zzzzziiinnng sound as they dive bombed just over our heads adding to the surreal feeling of being on top of the world in the center of an ancient temple complex.
I decided to sit down and relax for once. It was so peaceful and quiet up here that not soon after I sat down I was soon fast asleep. I awoke about fifteen minutes later completely refreshed. There is a stone pagoda at the top of the temple. When I awoke several Buddhist monks were grinning at me from inside the stone chamber.
Peace and quiet was finally found at Angkor Wat. Refreshed, I scaled back down the stone steps ready to be more patient with the cute but vocal young beverage touts.
Stay tuned,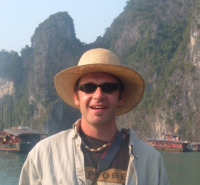 TT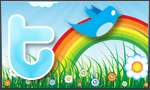 The goal of Traveling Ted TV is to inspire people to outdoor adventure travel and then provide tips on where and how to go. If you liked this post then enter your email in the box to get email notifications for each new entry. Daily travel photos are excluded from your email in order to not flood you with posts. There is no spam and email information will not be shared. Other e-follow options include Facebook (click on the like box to the right) or twitter (click on the pretty bird on the rainbow above).