Khao Yai National Park in Thailand is one of my favorite places I have traveled to, and I just wrote a guest blog for Wild About Travel about it .  See my post here.
I recently talked to some Thai people from Bangkok here in Chicago, and I mentioned I had been to Thailand and that Khao Yai was my favorite place.  They expressed surprise as they said most foreigners head to the beach in Thailand.  I enjoy the beach, but I hundred times prefer a  jungle.  If you are of similar taste then definitely put Khao Yai on your itinerary if heading to Thailand.
For those that make the trip to Khao Yai National Park one of the main attractions is the preponderant bird life.  Hornbills are the most spectacular with their large crested brow, large beak, and three foot wing span.  The birds are easy to spot in abundance especially at dawn and dusk as they tend to congregate in flocks.
Just because they are easy to see does not mean they are easy to photograph.  I spent a frustrating two hours chasing a flock of hornbills from tree to tree.  Once one flew away the others followed.  I was able to get a few decent pictures, but nothing spectacular.  I even woke up early the next morning, yet the same scenario played out.
I was leaving the park in the afternoon, but I had arranged a guided walk for two hours before I left.  I did not expect to see any hornbills during the day, so I had resigned myself that the pictures I had were good enough to feed my memory.
Then my guide excitedly pointed to the trees.  There on the branch was a beautiful hornbill perched peacefully not more than 50 feet away.  I zoomed in on the bird and snapped four pictures before he flew away.  Finally, I had my quality hornbill pics.  These pictures were taken with a Cannon Eos Rebel 2000 with a 300mm zoom lens.
I am not the only blogger captivated by these great birds.  Check out the Mad Traveler's photo of the week contribution last week.
TT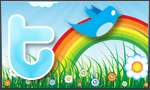 The goal of Traveling Ted is to inspire people to outdoor adventure travel and then provide tips on where and how to go. If you liked this post then enter your email in the box to get email notifications for each new entry. Daily travel photos are excluded from your email in order to not flood you with posts. There is no spam and email information will not be shared. Other e-follow options include Facebook (click on the like box to the right) or twitter (click on the pretty bird on the rainbow above).
On the right sidebar is a donate button. If you would like to donate in order to support the site, it would be appreciated. All donations would cover travel expenses and improvements to make the site better.