Many times when adventure traveling across borders and cultures situations arise when the traveler is the last to know what is going on.  I call these adventure travel WTF moments. Due to a misunderstanding and a lack of communication derived from not understanding the language or the culture travelers become perplexed by events and do not know what to do.
It is important when one finds themselves in these situations not to over react.  Often times what is happening is completely harmless, but it is easy to jump to conclusions and one can easily think that they are in danger of being scammed or worse.  It is easy for travelers who are tired and stressed to misinterpret the intention.  When these situations arrive it is important to keep calm and smile and nod until the dilemma is figured out.
Here are three WTF situations I found myself in and how I coped.
Photograph with a Vietnamese girl and Ho Chi Minh – Hanoi, Vietnam
In Vietnam a long line formed in front of the Ho Chi Minh Mausoleum.  A girl suddenly grabbed my arm and held on to me.  Having been scammed several times in Vietnam and recently having a tense showdown at my hotel that had tried to charge me twice their quoted fee I was on edge.
I strongly jerked my arm away, but she was resilient and reached for me again.  I pulled away again even more determined, and again she latched on again.  I finally loosened up a bit and she came closer turned to her friend and smiled and her friend clicked a picture of us.  It turned out she just wanted a picture with a white dude in front of the Ho Chi Minh Mausoleum, but she could not speak English and communicate this request to me.
After I realized the request was completely docile I felt horrible about the way I reacted.  I would love to see that picture.  A smiling Vietnamese girl next to a tense irritated American in front of Ho Chi Minh's final resting place.
Photographing nothingness in Thailand –Khao Yai National Park – Thailand
In Thailand I was hiking in the beautiful Khao Yai National Park.  An enormous almost pteridactial like hornbill squaked and flew over our heads and landed in the nearby trees.  At the same time a Thai couple came by with these enormous cameras.  They propped them down on tripods and invited me to look.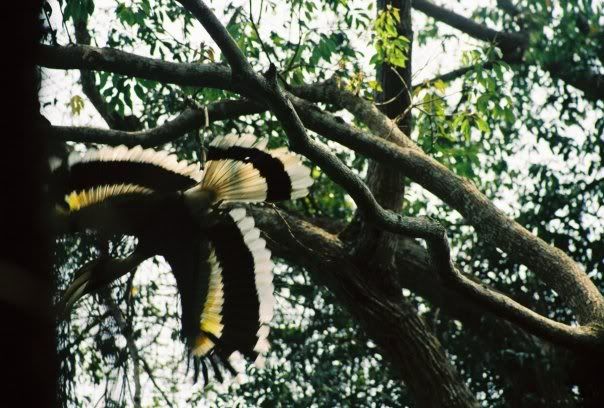 I thought they were inviting me to look into the camera to see the hornbill that just flew into the tree.  I looked into the camera, but it was unfocused and directed to nowhere.  I looked up and complained that I could not see anything.  They did not understand what I was saying.
They fidgeted with the camera, and I thought they were focusing.  I leaned in and strained my eye to see, but again there was nothing of note to see.  I looked up to them and gave them the international sign for WTF.  When I turned I noticed one was filming me and another had taken a picture of me.  They said "thank you," and picked up the camera and left.  They only wanted a picture and film of a farang using their equipment.
Rama for you Hanami Cherry Blossom Festival, Kyoto, Japan
While enjoying the incredible cherry blossom bloom in Kyoto, Japan I was drinking Sapporos and drinking some sake and having a blast.  Then two Japanese girls approached me and handed me a box of uncooked rama noodles.  I had no idea why they wanted to give me this treat.  Perhaps I looked hungry.
By this time I was a seasoned traveler and knew what to do.  I passed them a bottle of vodka and we cheered to our mutual countries and good health.  Actually, I am not sure what we cheered because we could not understand each other, but we had a good time because I did not have a knee jerk reaction to their approach.
As a foreigner in another country you are as exotic to them as they are to you.  Many people will approach you just to say hello and talk to you.  Many just want to practice English.  Although scams abound, not everyone who approaches is out to separate you from your money.  Be wary, but not so much where you have a closed attitude.  Jeremy from Budget Travel Adventures wrote about how to meet locals.  Use these tips and relax, smile, and enjoy the interaction.
Stay tuned,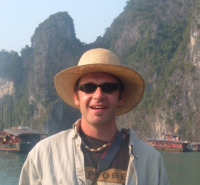 TT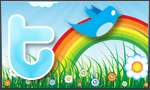 The goal of Traveling Ted is to inspire people to outdoor adventure travel and then provide tips on where and how to go. If you liked this post then enter your email in the box to get email notifications for each new entry. Daily travel photos are excluded from your email in order to not flood you with posts. There is no spam and email information will not be shared. Other e-follow options include Facebook (click on the like box to the right) or twitter (click on the pretty bird on the rainbow above).